Lexus' popular RX twins are getting minor updates for 2020. The most noteworthy changes include updated exterior styling, redesigned LED headlights, and an updated version of Lexus' infotainment system that now, finally, includes Apple CarPlay compatibility. The available F-Sport Performance Package has also been updated to be more than just an appearance package. But you'll have to order the right one.

For 2020, Lexus is offering two F Sport variants. The first package is a lot like the old one where it brings a different exterior design and upgraded interior styling. According to the brand's latest pricing guide, the regular 2020 Lexus RX 350 will start at $45,175 (including destination), while the F Sport Package that's all about looks costs $48,975. Lexus didn't release a complete list of standard features for the fashion-forward F Sport Package, but we believe it's more of a carryover package from before, which added things like paddle shifters, special seats, aluminum pedals, 20-inch wheels, unique driving modes, and adaptive suspension.

The all-new RX 350 F-Sport Performance is more expensive, with a starting price of $51,375 for a front-wheel-drive model, while all-wheel drive is $1,400 more. Unlike the cheaper F-Sport Package, the F-Sport Performance gets the same active variable suspension (AVS) system from the LC coupe. It also gets a cold air intake, a heated steering wheel, active sound control, and Electric Power Steering (EPS). On the inside, new bolstered sport seats in Circuit Red and gray stitching are included.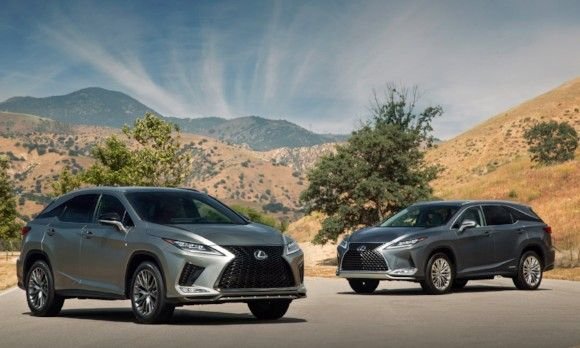 The appearance-oriented F-Sport package isn't new for the RX, as Lexus has offered the sporty package for a long time. The new F-Sport Performance Package actually brings some features that would make the SUV more of a performance vehicle, though they're not exactly a revolutionary list. This is the first time we've seen something like this on the RX and, depending on how it goes, we're sure it'll stick around if it's popular, as sporty SUVs have become popular.

Despite the introduction of a sportier F-Sport Performance Package for the RX, the SUV isn't on par with AMG-badged Mercedes or BMW's M vehicles. Instead, it's more like Acura's A-Spec Package on the MDX that starts at $55,895.

Production of the 2020 RX and RXL is set to begin in the third quarter of 2019.