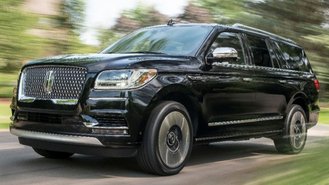 Shoppers planning to buy a Lincoln Navigator can expect to shell out a little more money this month. According to a letter sent to dealers, the brand has increased prices up to $365 in a mid-year change. That may not sound like much, but our analysis finds it's enough to push prices higher than we've ever seen before.
As of February 17, 2020 Navigator prices now start at $76,185, or $77,480 after a destination fee of $1,295. The range-topping Navigator L Black Label is now priced from $100,335 (up $365 from $99,970). That's $101,630 with destination, making it the most-expensive Navigator we've seen to date in stock form.
Price increases aren't unusual, but the Navigator has seen some big ones.
When the current SUV was introduced for 2018, Lincoln raised prices by over $8,500 compared to the outgoing generation. Before even a year passed, it saw a $600 price hike. For 2019, prices went up by as much as $3,500. For 2020, Lincoln added more standard equipment but raised prices by up to $2,620.
At $101,630, the Navigator L Black Label is now a little over $2,000 more expensive than the priciest Cadillac Escalade. For reference, the 2020 Escalade ESV Platinum is priced from $99,590. Cadillac currently offers a $9,000 rebate, although current customers may be eligible for up to $19,000 off MSRP.
So why is Lincoln taking prices up? According to the letter sent to dealers, the increase "continues to keep the Lincoln brand competitive and aggressively positioned verses (sic) our key competitors." Curiously, Cadillac has done the opposite, cutting top-of-the-line Escalade prices by up to $2,000.
Having said all that, we think it's no coincidence that the recently announced 2021 Cadillac Escalade is due to arrive this summer promising a big leap in tech. Pricing for the redesigned Escalade hasn't been announced yet, so we'll have to wait to make a full pricing comparison until closer to launch.