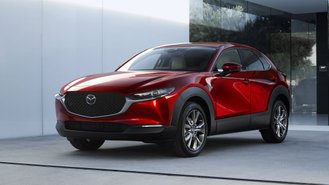 Mazda's latest small SUV has earned the Insurance Institute for Highway Safety's (IIHS) Top Safety Pick Award. With the award, the CX-30 becomes the sixth model from the automaker to earn one of the institute's awards. The way the CX-30 won the Top Safety Pick rating, though, was unusual.
The Base, Select, and Preferred trims all come with LED headlights that earned a rating of Good. That's not all that strange. What is peculiar is that the CX-30's range-topping Premium trim comes with adaptive headlights that earn a rating of Poor. Usually, it's the other way around. The reason the headlights with the Premium trim earned the worst rating possible was that the IIHS found that the low beams created excessive glare.
For the most part, automakers have introduced expensive headlights on top-ranking trims that earn the IIHS' highest score of Good. It's unusual to see base headlights earn a better rating than headlights found on the most expensive trim. It's a good thing for consumers, as they won't have to upgrade to a higher trim to get into a safer vehicle.
What makes the CX-30's case so unique, is that it's not the only vehicle in Mazda's lineup to come with curve-adaptive headlights. The Mazda3, Mazda6, CX-3, CX-5, and CX-9 all come with curve-adaptive headlights, but it's the CX-30's that earn the lowest rating.
As far as the other requirements, the CX-30 received Good ratings in the IIHS' six crash tests and had front crash prevention systems that earned Superior ratings. So, the compact SUV met the other conditions to be named a Top Safety Pick award. If it weren't for the Poor headlights, the CX-30 would've been named a Top Safety Pick+. It's highly likely that Mazda could drop the Premium's available curve-adaptive headlights and fit that trim with headlights from lower trims to earn the IIHS' highest safety rating.
Recently, the IIHS made it even harder for vehicles to earn its Top Safety Pick+. Instead of having optional headlights that earn at least an Acceptable rating, vehicles must be equipped with Acceptable-rated headlights as standard throughout the entire trim. That little change drastically decreased the number of vehicles that met the requirements to earn its highest safety award.