One would think that automakers have every inch of the SUV segment covered. There are extra large SUVs, large ones, midsize vehicles, compact utility vehicles, and subcompact options. But the new trend is having three rows of seating. Being able to seat seven is something that a lot of consumers are looking for. Unfortunately, if a seven-passenger SUV is what you're after, the majority of options compete in either the midsize or large segment. Mercedes-Benz is looking to change with the compact GLB-Class.
Mercedes already has a robust lineup of SUVs. There's the subcompact GLA-Class, the compact GLC-Class, the midsize GLE-Class, and the large GLS-Class. If you need a seven-passenger SUV, you have to move all the way up to the GLS-Class. Despite being smaller than the GLC, the upcoming 2020 GLB will have seating for up to seven. So it clearly fills a void that's missing in the automaker's lineup.
The GLB 250 utilizes the same platform as the new A-Class sedan and CLA-Class, while having some boxy cues from the iconic G-Class. Unsurprisingly, the interior is a mix of The A-Class and CLA-Class, as well, with the little SUV featuring Mercedes' two-screen setup and MBUX system.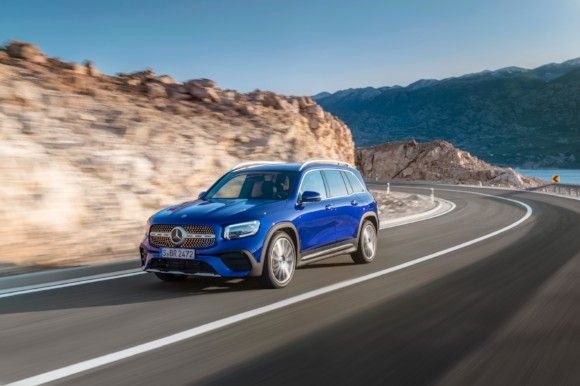 So far, the GLB 250 is the only trim we really know about. It's powered by the same turbocharged 2.0-liter four-cylinder that's found in the CLA 250 that generates 221 horsepower and 258 pound-feet of torque. The same eight-speed automatic transmission is in the mix, too. Front-wheel drive is standard, while all-wheel drive is also offered.
With its third row of seats, the new GLB 250 is set to take on the Volkswagen Tiguan, Dodge Journey, Lexus RXL, and Land Rover Discovery as smaller options that are available with seven seats. Pricing for the GLB 250 hasn't been announced yet, but we expect the SUV to fit in between the GLA-Class and GLC-Class in terms of pricing. So expect pricing to start at around $38,000. The vehicle is expected to go on sale in the U.S. later this year and could jumpstart the three-row compact SUV segment.