The Nissan GT-R we know today has changed little from the car the Japanese automaker introduced 12 years ago. The car's received updates inside and out, but underneath the angular sheetmetal is the same chassis. But Nissan has worked hard to not only improve the GT-R but keep it at the top of the supercar chain for over a decade. The new 2020 Nissan GT-R NISMO is further evidence the GT-R has plenty left to offer enthusiasts.
The 2020 GT-R NISMO receives a host of upgrades designed to improve the car's overall performance without significant changes to the powertrain. That means the new NISMO extensively uses carbon fiber for the front and rear bumpers, front fenders, roof, hood, side sill covers, trunk, and rear spoiler. This along eliminates about 23 pounds from the car in addition to the 44 pounds removed by other means.
Many of the NISMO's upgrades are borrowed from the GT-R GT3 race car, like the scalloped vents on the front fenders, which help funnel hot air away from the engine bay while providing downforce onto the front tires. The vents also improve the car's overall aerodynamics. The 20-inch RAYS forged aluminum wheels are lighter than before, coming wrapped in newly designed Dunlop tires that feature wider tread and fewer grooves, increasing the contact patch by 11%.
The 2020 Nissan GT-R NISMO uses the tried-and-true twin-turbocharged 3.8-liter V6. However, it uses an exclusive turbocharged from the GT-R GT3 race car with a modified turbine shape with fewer blades. The design improves acceleration response by 20% without a loss of horsepower. The engine pairs with a revised six-speed dual-clutch transmission that has a refined "R" mode, which shifts faster while optimizing gear selection. Top speed is 186 miles per hour.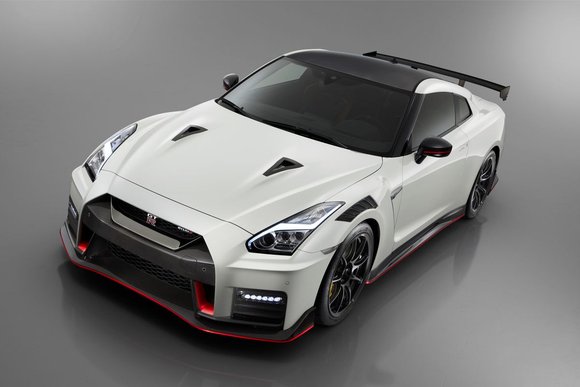 Stopping power comes from massive Brembo carbon ceramic rotors—16.1 inches up front and 15.3 inches at the rear. Brembo calipers are standard, which are dipped in bright yellow paint and can resist temperatures of more than 1,832 degrees Fahrenheit.
The upgrades are welcomed even as some begin to believe the platform is a tad old. It is ancient when pitted against competitors such as the Acura NSX, Audi R8, Mercedes AMG GT R Coupe, and the Chevrolet Corvette Z06. However, the GT-R remains just as quick as ever and quicker than some of the more expensive competitors. More of those competitors are reaching GT-R levels of performance for less money, which could worry Nissan.
Until the automaker updates the GT-R, the NISMO version is the ultimate one customers can get now, and they should be quite satisfied with the performance.