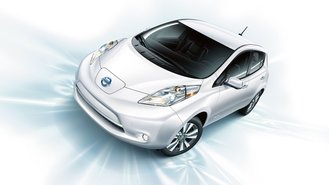 EV driving range race is turning into the horsepower race of the 21st Century.
Ahead of the launch of the next-generation Nissan Leaf, InsideEVs reports the automaker is targeting a 342-mile range for the all-electric vehicle. Just not right away.
According to a Japanese report, Nissan has built a Leaf prototype that can achieve 550 kilometers on a charge while not impinging on cargo space or other external designs on the vehicle. Such a range would put the Leaf at the front of electric vehicle range ratings.
But that model is reportedly still under development and will not launch when the new Leaf is revealed later this year. Insiders suggest a 2020 launch date for the uprated battery pack.
Previously, Nissan officials set a goal of 300 miles on a charge for a future Leaf. The current car is rated at 107 miles, up from 84 when it was introduced for 2011. Even 107 miles is noticeably below the new Hyundai Ioniq Electric and the 2017 Volkswagen e-Golf at around 125 miles, let alone the Chevrolet Bolt's 238-mile range and anything from Tesla.
The new Nissan Leaf will also be one of the first Nissan models with the company's new self-driving technology.