For the 2020 model year, Nissan is simplifying the Titan's lineup. That shouldn't come as a surprise, especially as the pickup truck didn't do all that well compared to its competitors – sales of the truck fell roughly 38% last year. But what is surprising, is to see pricing for the Titan increase by $5,500. Nissan's large pickup truck now starts at $37,785 including destination, which is a far cry from the 2019 model's price tag of $32,285.
The reason for the drastic increase in pricing is due to Nissan's decision to discontinue the Single Cab body style. That's not really surprising, as two-door pickups have started to die off with Ram and Toyota not offering them on their current full-size options. But that little difference means the King Cab, which is Nissan's way of saying half-sized rear doors and an extended bed, becomes the most affordable way to get into a 2020 Titan.
Comparing a 2020 Titan S King Cab with a comparable model from 2019, which started at $35,555, represents an increase of $2,230. While that's much smaller than $5,500, it's still quite a lot of money. Nissan, though, gave the 2020 Titan a refresh, adding more features and giving the truck a brawnier design. Major highlights include a new 8-inch touchscreen, Android Auto, Apple CarPlay, Wi-Fi hot spot, and an infotainment system that has over-the-air update capability as standard.
Nissan Safety Shield 360 is also standard for 2020. The suite includes automatic emergency braking, pedestrian detection, rear cross traffic alert, rear automatic braking, blind spot monitoring, high-beam assist, and lane departure warning. Most of those features weren't available on last year's Titan and the few that were available were only part of pricey packages.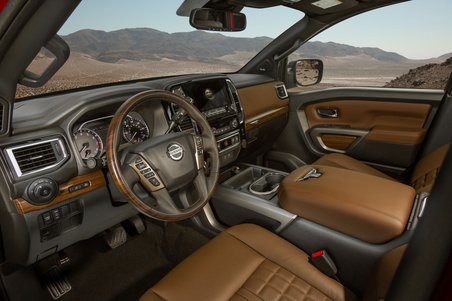 Nissan will continue to sell the Titan in S, SV, SL, Pro-4X, and Platinum Reserve trims. Comparing apples to apples reveals that pricing has gone up by anywhere from $860 for the Platinum Reserve crew cab trim up to $5,250 for the SL crew cab. For the Titan XD, pricing has gone up, as well, though increases range from $1,810 to $4,690 for comparable models. The XD is no longer available with the Cummins turbodiesel 5.0-liter V8 engine, as that option has been discontinued. Instead, all Titans will be powered by a 400-horsepower 5.6-liter V8.
Compared to other full-size trucks on the market, the Titan becomes one of the most expensive options on the market. The Ford F-150 starts at $30,090, the Chevrolet Silverado 1500 costs $29,895, the Ram 1500 is priced at $33,840, and the Toyota Tundra carries a price tag of $35,170. It may be pricier, but the Titan comes with one of the longer lists of standard safety features. The only other truck that can match the Titan in that regard is the Tundra, which comes with Toyota Safety Sense P as standard.
While bolstering the Titan's list of standard features and giving the pickup a new look are both good things that one would expect to help the model, we don't see Nissan's pickup doing all that well in 2020. The Titan and Titan XD always occupied odd places in the market, sitting between full-size and heavy-duty models where towing and payload capacity is king. In those respects, the Titan always fell behind. With the increase in pricing, we expect more consumers to look to one of the all-new options on the road, like the Silverado 1500 and the Ram 1500, for their truck needs.