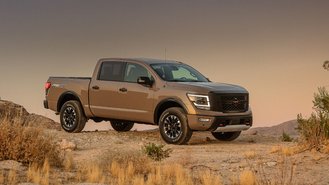 As far as full-size pickup trucks go, Detroit's winning. Two of the three major full-size truck manufacturers have come out with all-new or drastically refreshed pickup trucks recently, which puts the Nissan Titan – one of the oldest in the segment – in a precarious situation. Cue the refresh for the 2020 model year. The redesign isn't revolutionary, but brings updated styling, new features, and a revised powertrain.
Hybrids and turbochargers may be making their way to other pickup trucks, but the Titan sticks to its guns with an updated 5.6-liter V8. The motor's rated at 400 horsepower and 413 pound-feet of torque (up 10 hp and 19 lb-ft of torque), which Nissan claims are best in class for both figures. A new nine-speed automatic replaces last year's seven-speed gearbox. The extra power and new transmission will see the Titan accelerate better, as the automaker believes going from 50 to 70 mph is now a second quicker.
While Nissan states the Titan has best-in-class power figures, that's not entirely true. Ford and Chevrolet have available engines that make more power – Ford's 3.5-liter EcoBoost V6 in the Raptor generates 450 hp and 510 lb-ft of torque, while the Chevrolet Silverado's available 6.2-liter V8 produces 420 hp and 460 lb-ft of torque. If Nissan's referring to standard engines, then sure, it's got the rest beat.
Improvements have been made elsewhere, as the Titan cabin gets an overhaul with more features. There's a new 8-inch touchscreen that's standard, while a new 9-inch unit is available. The infotainment system has the latest generation of NissanConnect, which allows for over-the-air updates. Another new addition is a 7-inch display in the instrument cluster. Apple CarPlay and Android Auto are also standard, as is Wi-Fi hot spot that's capable of handling up to six devices at a time.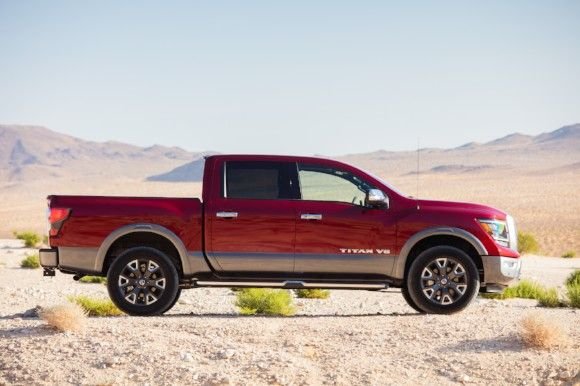 Nissan Safety Shield 360 is now standard, as well, bringing automatic emergency braking, pedestrian detection, blind spot monitoring, automatic high-beam headlights, rear cross-traffic alert, rear automatic emergency braking, and lane-departure warning. While those are a strong list of standard features, the Titan can be fitted with adaptive cruise control, a 360-degree camera, traffic sign recognition, and more as options. The Titan also has more airbags than before – eight versus six.
All of these are wrapped in a body that has three new grille designs, new headlights with updated LED daytime running lights, new fog lights, an updated front bumper, and revised wheel designs. The changes help the Titan look a lot like the Warrior concept that we saw back in 2016.
The 2020 Titan will be available in King Cab and Crew Cab configurations, as it looks like the Single Cab will not return for the new model year. Five trims will be offered: S, SV, Pro-4X, SL, and Platinum Reserve. As we learned in August, the Titan XD has been discontinued.
Nissan didn't announce how much the new Titan would cost, but we're sure the changes will see the pickup truck eclipse the $35,000 price tag of a base King Cab model from 2019. Towing capacity isn't out yet either. With more power, we expect the Titan to be able to haul more cargo than before – the 2019 model was rated at 9,660 pounds and a payload capacity of 1,930 pounds. The Titan will go on sale early next year.