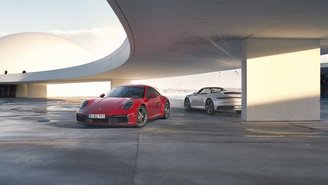 There aren't a whole bunch of vehicles that have manual transmissions anymore. Even high-performance vehicles have started to ditch manual transmissions due to low take rates, manufacturing costs, and the fact that automatics are faster. When Porsche introduced the all-new 992-gen 911, there wasn't a manual option, but there is now. Porsche finally announced a manual transmission for the 911, but it's only available on a few trims.
A seven-speed manual transmission is being offered on the 2020 Porsche 911 Carrera S and 4S models. Both coupe and cabriolet body styles can be fitted with the gearbox as a no-cost option. Everything else comes with Porsche's eight-speed dual-clutch automatic transmission that's called PDK. Going with the seven-speed manual transmission also brings the Sport Chrono Package as standard. The package is an extra $2,720 on vehicles with the automatic transmission and adds things like PSM Sport Mode, dynamic drivetrain mounts, and rev matching. A mechanical limited-slip differential and Porsche Torque Vectoring are also included.
Over similarly equipped models, the seven-speed manual is 84 pounds lighter, but is quite slower to 60 mph. Porsche hasn't confirmed whether output remains the same as automatic Carrera trims, but getting to 60 mph from a standstill takes roughly four seconds – a Carrera S with PDK only takes 3.3 seconds (with the Sport Chrono Package) to make the same sprint. For the record, Carrera S trims come with a 3.0-liter twin-turbocharged flat-six that makes 443 horsepower.
Pricing for the 2020 911 Carrera S with a manual transmission starts at $114,650 including destination, while a 4S Cabriolet is priced at $134,750. With the seven-speed manual being a no-cost option, both models share pricing with PDK-equipped vehicles.
According to Road & Track, Porsche most likely dropped the manual option on the base Carrera because people weren't buying them. Consumers, though, did go for 911 S and GTS models on previous-gen 911s with a manual transmission, which explains why it brought the gearbox back on those trims.
As a whole, manual transmissions are disappearing from cars. In a report from earlier this May, Toyota claimed that the take rate for the Corolla with a manual transmission is less than 1%. Even the take rate for the sporty 86 coupe is relatively low at 33%. While Porsche didn't provide official numbers on take rates for the 911, they must be pretty low if the high-performance brand decided to cut it out of a few models.