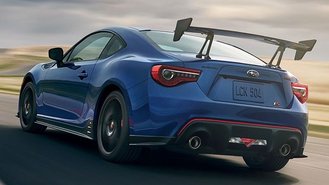 Although Subaru hasn't taken the wraps off yet for the 2020 BRZ, fuel economy data posted to the EPA website indicates the automaker is bringing back the performance-oriented tS special edition. Last seen for the 2018 model year, the BRZ tS had benefits like a tighter suspension, a large adjustable rear wing, exclusive wheels, and more.
According to the EPA, the 2020 tS is rated at 20 mpg city, 27 mpg highway, and 23 mpg overall. That's 1 mpg less overall compared to a standard BRZ with manual transmission. While a Subaru spokesperson declined to offer full details, she did note that the difference in fuel economy can be attributed to the presence of 18-inch wheels and high-grip tires.
That's about all we know, at least for now.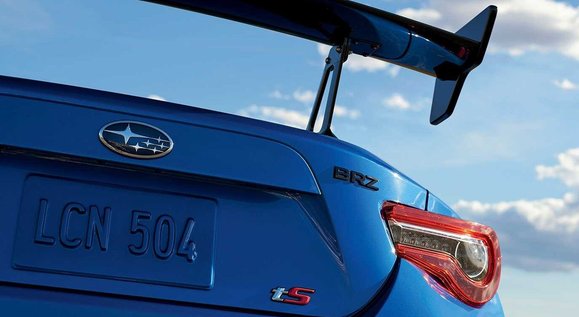 Special editions for the BRZ and jointly-developed Toyota 86 aren't all that unusual. Past examples for the BRZ apart from the tS include the 2019 Series.Gray and 2017 Series.Yellow. In the case of the 86, shoppers had the TRD Special Edition for 2019 and orange "860 Special Edition" for 2017.
Later this year, Toyota will offer a limited-production 2020 86 Hakone Special Edition in distinctive green paint with unique 17-inch bronze wheels and tan/black Alcantara seats. Some have speculated on the potential demise of both cars, but recent reports suggest that may not be the case.
According to Subaru, the 2020 BRZ will go on sale later this year. Expect details to become available closer to the release date.
Learn more about the Subaru BRZ »
Update (August 16, 2019): Subaru has confirmed the BRZ tS is returning for 2020. Pricing will start at $32,395 with destination and the model will only be offered with a 6-speed manual transmission. Production will be limited to just 300 cars. Key features will be a Ceramic White exterior with 18-inch matte bronze-look wheels wrapped in Michelin Pilot Sport tires, Cherry Blossom Red accents, badges with a black finish, and Alcantara seats with red contrast stitching.
Pictured: 2018 BRZ tS