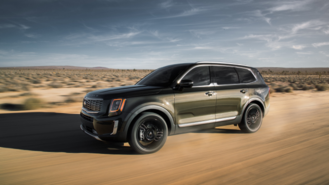 Kia is returning to the three-row SUV segment with the all-new Kia Telluride, an eight-passenger mammoth on wheels. This is Kia's return to the segment after the South Korean automaker discontinued production of the Borrego in 2010 after just one year on sale in the U.S. Kia replaced the Borrego with the second-generation Kia Sorento—a mid-size, two-row crossover that had third-row seating available as an option. However, as the crossover and SUV market heated up in the U.S., Kia realized it needed a dedicated three-row SUV—which is now the 2020 Kia Telluride.
The Telluride will give Kia a true competitor to the likes of other three-row crossovers and SUVs like the Nissan Pathfinder, Honda Pilot, Chevrolet Traverse, Toyota Highlander, and others. However, Kia is going decidedly upscale compared to some. Think of the Telluride as a magnum opus—a pinnacle for the automaker to show others it too can create and produce a large, luxurious, eight-row SUV. The dedicated platform also gives third-row passengers more room without compromising cargo space like in the smaller three-row Kia Sorento.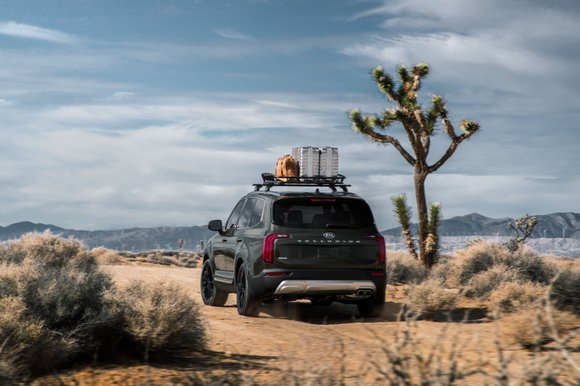 The new Telluride measures 196.9 inches long, 78.3 inches wide, and 68.9 inches tall. It has a wheelsbase of 114.2 inches. The Kia Sorento measures 189 inches in length, 74.4 inches wide, and 66.3 inches tall with a wheelbase of 109.4 inches. The Telluride is larger no matter which way you measure it, which translates to more room inside for cargo and passengers. The boxy appearance and its larger dimensions help give the SUV road presence.
The Telluride is powered by a 3.8-liter V6 engine making 291 horsepower and 262 pound-feet of torque. Power goes to the front wheels through an eight-speed automatic transmission with all-wheel drive an available option. Inside, passengers will be able to play with a host of luxuries and techno gizmos. A 10.25-inch touchscreen with Apple CarPlay and Android Auto compatibility is available. A 10-speaker, 630-watt Harmon Kardon sound system is available along with six USB charging ports and wireless charging.
Kia also packs the Telluride with a host of standard and optional safety features, too, including blind spot monitoring, lane departure warning, lane keep assist, forward collision warning, and more. The 2020 Kia Telluride will go on sale next year with LX, EX, S, and SX trims available.