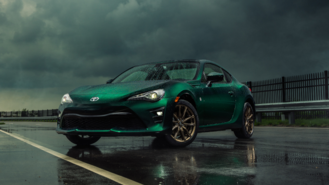 With all the attention the Supra has been getting, it's easy to forget Toyota still produces the 86. The coupe, first introduced for the 2012 model year, soldiers on in 2020 with a new special edition package heading to the U.S. — the 2020 Toyota 86 Hakone Edition. For those unfamiliar with Japan's highway system, Hakone, which is also a city, is the name of a turnpike and one of the best driving roads in the world.
While the Hakone Edition is new to the U.S., it's not new for Toyota. In February, the automaker released the Toyota 86 British Green Limited for Japan only. That's the car the U.S. is getting - green paint and all - just with a new name. As with other unique additions, the 86 Hakone is an appearance package. While there's not a Subaru BRZ equivalent right now to the 86 Hakone, one could come down the road as has happened in before.
Exterior upgrades include the custom Hakone Green paint job, black lip spoiler, and 17-inch bronze wheels. The Toyota's standard chrome exhaust tips, power mirrors, and LED headlights and fog lights are here, too. Inside, the Toyota 86 Hakone receives tan and black Alcantara seats. The tan is used as contrasting stitching throughout the interior including on the steering wheel, emergency brake, and gear shift lever. There's also an embroidered Toyota 86 logo on the passenger side of the dash.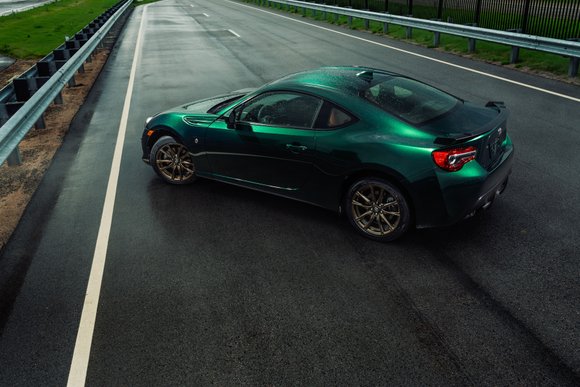 Under the hood is the same 2.0-liter four-cylinder engine from the base model. That means it produces 205 horsepower and either 156 pound-feet or 151 pound-feet of torque depending on the transmission. The six-speed manual gearbox can handle more torque than the six-speed automatic.
One thing we don't know about the 2020 Toyota 86 Hakone Special Edition is the price. The base 2019 86's starting price is $26,505, which pits it against the likes of more powerful competitors like the Ford Mustang, Chevrolet Camaro, and Dodge Challenger, though the Toyota is trying to cater to a different market of enthusiasts. Nonetheless, Toyota is competing against some heavy-hitters that could make customers think twice about the Japanese sports car.