The 2020 Toyota Camry TRD is shaping up to be a surprisingly hot commodity at dealers. In some cases, strong demand has made the car exceptionally hard to find in stock. As a result, those looking to scoop one up may find themselves having to go to extraordinary lengths in order to buy one.
Several 3rd-party shopping websites show less than 200 cars available nationally. Prices for the Camry TRD start at $32,125, $130 more than when the car was introduced and $5,000 more than the SE trim on which it's based. Interestingly, the TRD remains the most affordable way to get a Camry with a V6.
The car offers mechanical enhancements like bigger brakes with more stopping power, a lower suspension setup for a firmer ride, a TRD-tuned exhaust, and more. However, extremely limited availability could prevent most consumers from even being able to get their hands on one.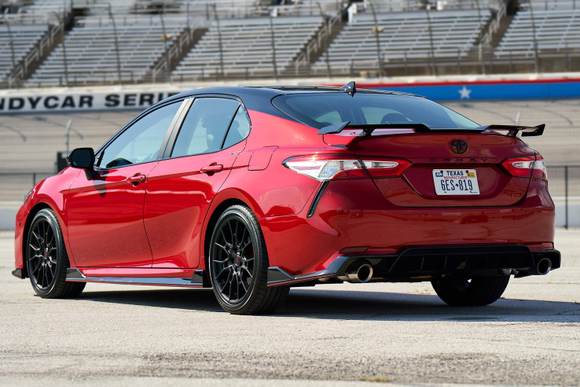 According to Toyota spokesman Zachary Reed, TRD Camrys have been selling "at least twice as fast as other Camry grades" and dealers have been unable to keep up with the demand. "On average, each dealer will only get about five Camry TRDs a year and at this point they can't keep them on the lot," Reed added.
At Longo Toyota, one of the largest dealers in the U.S. there are 322 Camrys listed online but not a single TRD. According to Autotrader.com, the nearest car is at least 64 miles away in Temecula in red with an optional black roof. If red isn't your color, you'll have to go one state over where a dealer in Reno has one in white.
Those unwilling to wait for a TRD to arrive could find themselves paying a lot more to get a Camry with a V6. For example, the closest match is arguably the six-cylinder XSE trim which has an MSRP of $36,085, nearly $4,000 more than the TRD but without the same performance features or unique styling.