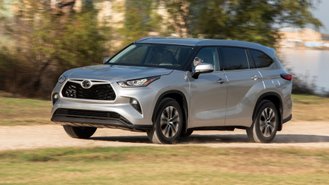 The all-new 2020 Toyota Highlander has earned the Insurance Institute for Highway Safety's (IIHS) second-highest safety rating. The midsize SUV matches the same safety rating that the last-gen model received from the institute, but is a safer vehicle overall – more on that in a little bit. Because of the way the IIHS completes its tests and organizes its ratings, we expect the Highlander Hybrid to also be a Top Safety Pick.
In the institute's tests, the Highlander met all of the necessary requirements. In all six of the IIHS's crash tests, the SUV earned a rating of Good, had a standard front crash prevention system that earned a Superior rating, and can be fitted with LED projector headlights that earn a rating of Good.
The last criterion for headlights is where things get a little iffy for the Highlander. There are three different available headlights for the SUV. L, LE, Hybrid, XLE, and Hybrid XLE trims come with LED headlights that earned a Poor rating as standard. Limited and Hybrid Limited trims come with LED projector lights as standard that the IIHS found to be Acceptable. Only the SUV's Platinum and Hybrid Platinum trim's standard curve-adaptive headlights earned a Good rating.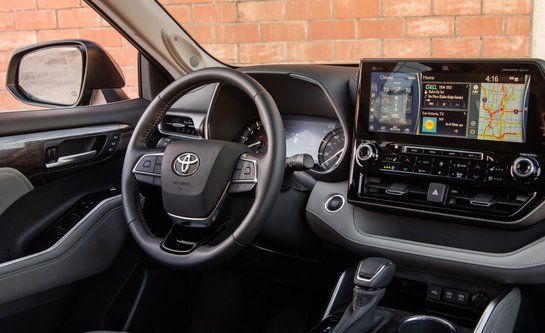 Previously, that would've been enough for the Highlander to earn the highest rating of being a Top Safety Pick+. But the IIHS recently introduced new rules, requiring vehicles to come with Acceptable or Good rated headlights as standard. So, the Top Safety Pick is the best the Highlander can get.
Every other midsize SUV that the IIHS tested that the Highlander competes with also has a Top Safety Pick rating s the Highlander fits right in with the crowd.
As mentioned before, compared to last year's Highlander, the all-new 2020 model year has the same safety rating but it's a safer vehicle. The 2019 Highlander received an Acceptable rating in the passenger-side small overlap front test and had headlights that also earned a rating of Acceptable. With better crash-test scores and improved headlights, the Highlander is safer than it was before.