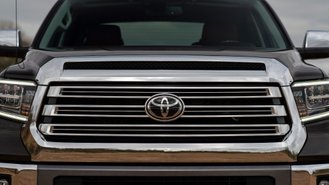 Fleet ordering guides indicate Toyota is gearing up to make some big changes to its largest pickup, the Tundra. For 2020, the documents suggest the brand is discontinuing the vehicle's entry-level 4.6-liter V8 engine and Flex Fuel option. If the information proves accurate, it will leave just one engine option, a 5.7-liter V8.
Unfortunately, a Toyota spokesperson declined to confirm or deny our findings, citing an inability to comment on future products. Official specs aren't scheduled to be released until the model goes on sale this summer. For reference, the current Tundra is offered with a choice of either a 4.6-liter or 5.7-liter V8. The larger engine makes 381 hp with 401 lb-ft of torque, while the smaller one is rated at 310 hp and 327 lb-ft.
Lower power translates to a big difference in towing. According to Toyota, a Tundra SR5 4x2 Double Cab with the 4.6-liter mill is rated at up to 6,800 lbs. With the 5.7-liter V8, the same trim can tow 10,200 lbs. Interestingly, fuel economy for the bigger V8 sacrifices just 1 mpg (15 mpg overall vs. 16 mpg in 2WD form). Flex Fuel Tundras, which aren't stocked in all states, are only available with the bigger engine.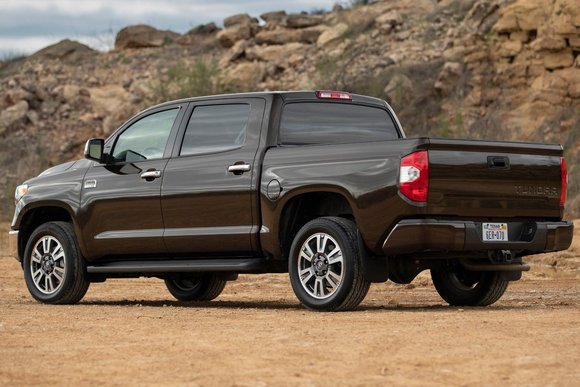 Flex Fuel refers to the ability to run on alternative fuel mixtures such as E85 (a mix of 85% Ethanol and 15% gasoline). Fuel economy is one of the engine's most significant weaknesses, with an EPA rating of just 10 mpg on E85. The Tundra has largely remained unchanged since its introduction way back in 2007.
Meanwhile, competitors offer a range of compelling choices. For example, the F-150 diesel is rated at up to 30 mpg highway. The new RAM 1500 can tow up to 12,750 lbs. In terms of innovation, GMC has debuted a nifty new carbon-composite bed for the Sierra.
Earlier this year, Toyota announced modest tweaks to the 2020 Tundra TRD Pro. Apart from that and the aforementioned powertrain changes, the truck is expected to be a carryover. A report claims Toyota may move the Tundra's next redesign to the same platform as the Tacoma to reduce production costs.
Expect official details to emerge closer to the 2020 Tundra's release this summer. Last month, Tundra sales totaled 10,657 units, a 5.9% increase compared to the previous year. During the same period, the brand sold nearly 23,000 Tacoma pickups.
Learn about the current Tundra on sale now »
Pictured: 2019 Toyota Tundra
Editor's Update: A Toyota spokesperson has confirmed via email that the 4.6-liter V8 and Flex-Fuel options are indeed discontinued and won't be offered after the 2019 model year.