Volkswagen unveiled the Arteon as an all-new model for 2019. Unfortunately, the large sedan missed out on one of the Insurance Institute for Highway Safety's (IIHS) awards, because of its "Poor"-rated headlights. For the sedan's second model year, Volkswagen has made some changes to the 2020 Arteon's headlights, netting it the Top Safety Pick award.
The 2020 Arteon was named a Top Safety Pick by the IIHS when equipped with specific headlights. The award applies to all Arteon models for the 2020 model year except for the base SE trim. The entry-level trim still comes with LED projector headlights that were found to be "Poor." Moving up to the SEL, SEL R-Line, or SEL Premium R-Line brings curve-adaptive LED projector headlights. Those earned a rating of "Good."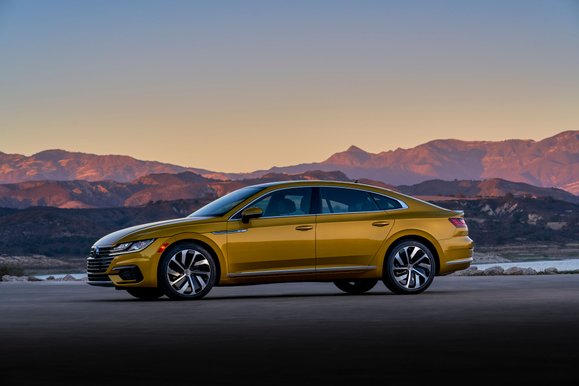 If VW fitted the entire Arteon lineup with the curve-adaptive LED headlights, the sedan would've earned the highest rating of being a Top Safety Pick+ vehicle. Forcing automakers to offer "Good"-rated headlights as standard was part of a change the IIHS made earlier this February to compel automakers to focus on headlights. At the time of the change, the IIHS stated that roughly 50% of all fatal crashes in the U.S. occur in the dark. Making automakers improve their headlights could reduce the number of fatal automotive-related incidents.
Unfortunately, as with many other modern vehicles, automakers will have to pay a large amount of money to upgrade to an Arteon with "Good"-rated headlights. The SE trim starts at $37,015 (including destination), while the SEL, which is the first trim to come with the curve-adaptive headlights starts at $41,015. The extra $4,000, though, brings quite a lot more in terms of features than just better headlights. The SEL adds the automaker's Digital Cockpit system, an 8-inch touchscreen with navigation, a panoramic sunroof, adaptive cruise control, remote start, and leather upholstery. Overall, we think it's worth the upgrade.
The IIHS only has two vehicles that compete in its "Large Cars" segment, including the Arteon and the Kia Stinger. The Stinger is a Top Safety Pick, as well, and just like the Arteon, only has a few trims that meet the requirements for the award. For the Stinger, the GT, 2.0L with the optional Sun and Sound package, Premium, and GT1 trims come with "Good"-rated headlights.