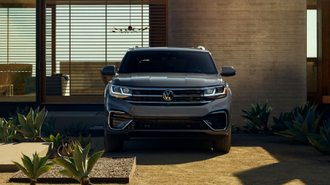 Usually, when it comes to German SUVs, sporty coupe-like models are usually more expensive than the larger vehicles they're based on. This rings true with the Audi Q8, which is based on the larger Q7, as well as the Porsche Cayenne and the Cayenne Coupe. These models may not be as practical, be as spacious on the inside, or have the same number of seats, but they have more athletic designs, which tends to drive pricing up. For fans of the 2020 Volkswagen Atlas Cross Sport, this trend, luckily, doesn't hold true. The smaller, two-row Atlas Cross Sport is more affordable than the larger, three-row Atlas.
The Atlas Cross Sport will start at $31,565, including destination, undercutting the 2020 Atlas by an even $1,000. That price is for the base S trim with front-wheel drive and the four-cylinder engine. In total, Volkswagen is offering the Atlas Cross Sport in eight trims: S, SE, SE with Technology, SE with Technology R-Line, SEL, SEL R-Line, SEL Premium, and SEL Premium R-Line. At the top of the range, the SEL Premium R-Line will carry a starting price tag of $49,015. Comparing the range-topping Atlas (SEL Premium) with a similarly equipped Atlas Cross Sport reveals a $1,100 difference.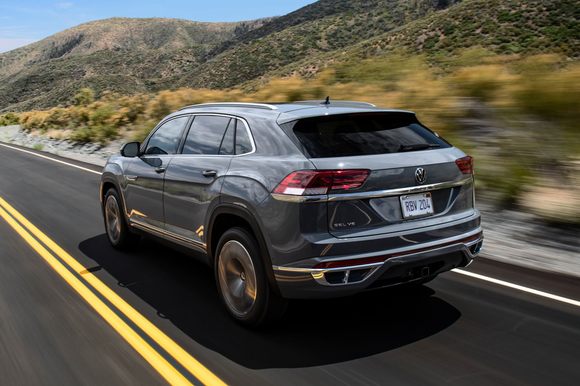 While the SUV comes with a turbocharged 2.0-liter four-cylinder engine that makes 235 horsepower as standard, VW's offering a 3.6-liter V6 that's good for 276 hp as an option. It's available throughout most of the lineup except for the S and SE trims. On SE with Technology and SE with Technology R-Line trims, the V6 engine is an extra $1,400. For any trims with "SEL" in the name, the V6 is a $1,800 option.
When the Atlas Cross Sport goes on sale within the next few months – a few trims, like the SE with Technology R-Line, SEL R-Line, and SEL Premium R-Line, will arrive at an unspecified later date – it will compete with other two-row midsize SUVs. Competitors include the Honda Passport, Jeep Grand Cherokee, Ford Edge, and Nissan Murano. Compared to those options, the Atlas Cross Sport is the most affordable option. The Passport ($33,110), Grand Cherokee ($33,540), Edge ($32,195), and Murano ($32,625) all cost more.