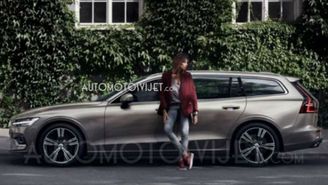 A single image of the next-generation Volvo V60 leaked ahead of the wagon's online debut scheduled for February 21. The picture shows a sleek, low-slung, and sporty wagon with many styling cues downsized from the Volvo V90. AutoMotoSvijet originally published the image, which has since been removed.
Development of the V60 happened alongside the S60 sedan, which Volvo should reveal shortly. Both ride on a shortened version of Volvo's SPA modular platform the automaker introduced with the 2018 XC60 SUV. There should also be a Cross Country version of the V60, blending the best parts of the XC60 and V60.
Inside, the V60 should be virtually identical to the XC60. There will be a 12.3-inch digital gauge cluster and a 9.0-inch, vertically oriented touchscreen infotainment display.
Powertrains for the next-gen V60 will be similar to what Volvo offers in the XC60. That should mean a base T5 with a turbocharged 2.0-liter four-cylinder making 250 horsepower. A supercharged and turbocharged four-cylinder T6 producing 316 hp should be the mid-level trim. The T8 trim – if it were to happen for the V60 – would take the T6's engine and add an electric motor for a combined output of 400 hp.
The next-gen V60 makes its official debut at next month's 2018 Geneva Motor Show. The car should arrive in the US next year as a 2020 model.