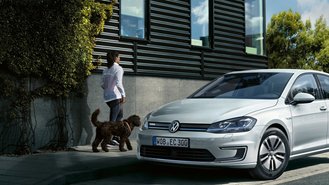 Automakers are hard at work on increasing the range of their electric vehicles. Larger batteries, improved chemistry, more powerful electric motors, little changes can go a long way in the EV realm. But Volkswagen, at least with its all-electric e-Golf, seems to be taking a step in the wrong direction. The EPA came out with official range and fuel economy figures for the 2020 model year and the e-Golf's numbers are lower than before.
The 2019 e-Golf was rated by the EPA to have a range of 125 miles and a combined fuel economy rating of 119 MPGe. The 2020 e-Golf is rated at 123 miles and has a combined MPGe rating of 113. It's an interesting change, because Volkswagen hasn't announced any major updated for the vehicle. The only difference between the 2020 and 2019 model year is that last year's Driver Assistance Package is now standard.
Volkswagen spokesperson Mark Gillies told CarsDirect that the change isn't with the brand, but with the EPA. "Apparently, there was a change in the way the EPA does the calculation. Nothing has changed on the car," said Gillies. A representative at the EPA couldn't provide any details on the changes.
Fortunately, this isn't an issue that appears to be affecting other noteworthy EVs. For example, the Hyundai Kona Electric and Jaguar I-Pace both retain the same range and MPGe ratings as previous years.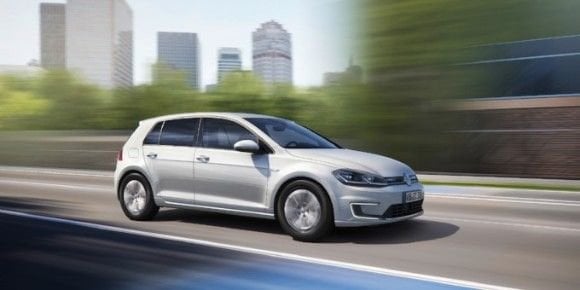 Whether it's the way the EPA does its calculations or something else, the change doesn't help the e-Golf. The electric hatchback was already behind competitors and now it finds itself even further at the back of the pack. The Hyundai Ioniq Electric, Tesla Model 3, Hyundai Kona Electric, Chevrolet Bolt, Kia Soul EV, BMW i3, Nissan Leaf, Kia Niro Electric, Tesla Model S, Jaguar I-Pace, and Audi e-tron all have more range than the e-golf. Some of the e-Golf's competitors have double the range. The only vehicles with less range include the smart EQ fortwo, Honda Clarity Electric and the Fiat 500e.
Volkswagen has big plans for EVs in the future. The German brand announced that it wants to build 27 different electric cars on its electric architecture by 2022. The ID.3 is the first of many EVs to be built on the modular MEB platform and was recently unveiled in its entirety earlier this September. The ID.3, reportedly, won't be coming to the U.S. Instead, the small electric hatchback will pave the way for the ID Cross, a five-passenger crossover that's expected to arrive in 2020, a retro-styled version of VW's classic Microbus called the ID Buzz in 2023, and another EV that has yet to be named.