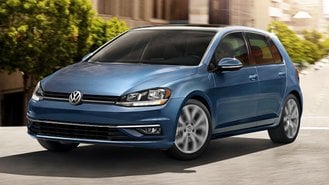 Buyers who assume VW's smallest car will also be its most affordable may be in for a surprise with the 2020 Golf. According to an early order guide, an automatic-equipped Golf hatchback will start at a price of nearly $25,000, making it up to $4,300 more expensive than a Jetta.
For 2020, the Golf will only be offered in a single trim called the 1.4T Value Edition. With the standard 6-speed manual transmission, the car will start at $24,115 after a destination charge of $920. An 8-speed automatic adds $800, bringing the price tag to $24,915.
Meanwhile, the 2020 Jetta S is listed at $20,615 with an automatic, making the Golf $4,300 more expensive. Even with the optional Driver Assistance Package ($450), the Jetta ends up being $3,850 less expensive on paper. So is the Golf Value Edition really a good value? That depends.
First, it's important to note that the Golf doesn't benefit from any sort of redesign like the one the brand teased recently. However, it will come better-equipped compared to the 2019 model with standard features like automatic emergency braking, a sunroof, alloy wheels, and heated seats.
Based on how VW has positioned the 2020 Golf, we suspect it will mainly appeal to hatchback fans who want their next vehicle to come well-equipped without the complexity of finding a car with the right mix of options. That said, a nearly $25,000 sticker price could be a tough pill to swallow.
At that point, some may find themselves wondering whether or not they should just upgrade to a Tiguan. For 2020, the Tiguan gains automatic emergency braking and starts at $25,965. That's a difference of just $1,050 when compared to the Golf.
Having said all that, shoppers should be sure to do a full comparison of features to determine whether the Golf is a good value. For example, a 2020 Honda Civic EX Hatchback comes equipped with Honda Sensing, heated seats and a moonroof, and starts at $25,080.
Learn more about the 2020 Golf »
2018/2019 Golf pictured