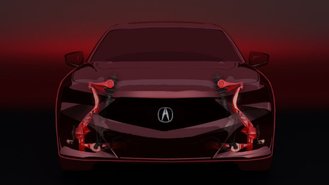 The upcoming full redesign for the 2021 Acura TLX is slated to be a return to offering sporty vehicles for the brand. Just last week, Acura confirmed the return of the Type S Performance line and a new turbocharged 3.0-liter V6 engine. Ahead of the all-new TLX's debut on May 28, the automaker recently revealed that the upcoming sedan will feature a double-wishbone front suspension system.
While that doesn't seem like a massive detail, it's an important feature. The current TLX features a MacPherson strut setup, so the move to a double-wishbone layout should certainly help the sedan around corners. Acura claims the new suspension will provide "more precise control of wheel camber, caster, and toe angles" and maximize the front tires' contact to the road.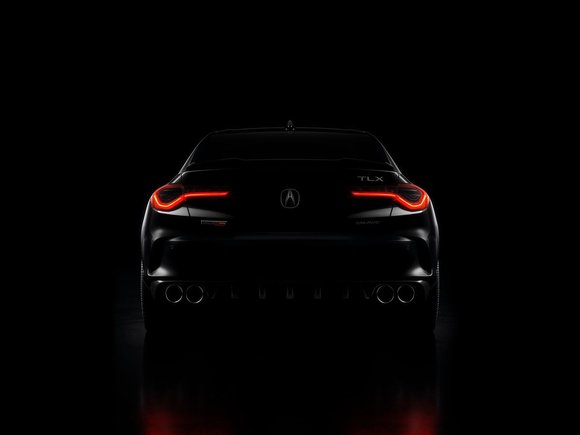 A double-wishbone suspension setup isn't a new thing for Acura. The current NSX uses the suspension system. A lot of cars from Acura's past used the setup, as the old Legend, Integra, TL and TL Type S, and first-gen NSX all came with double-wishbone suspension. When it comes to handling, it certainly looks like Acura is looking to its past to ensure the upcoming TLX is more enjoyable to drive than the majority of its current offerings.
The new TLX will be one of the few options in the midsize luxury segment to come with a double-wishbone front suspension setup. The Lexus ES uses MacPherson struts with coil springs, the Mercedes-Benz E-Class has four-wheel independent suspension, the Audi A6 has a multi-link front suspension, and the Cadillac CT5 comes with MacPherson strut front suspension. Only the BMW 5-Series, the athlete of the class, uses double-wishbone suspension.
We'll only have to wait a few days to see the 2021 TLX in its entirety, but from the things we've seen so far, it certainly looks like it will usher in a new era of athleticism for Acura.