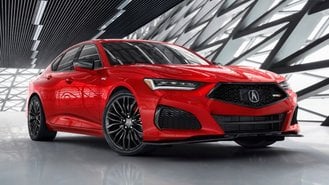 While other automakers are cutting sedans out of their lineup, Acura shocked the industry when it announced the sporty 2021 TLX Type S earlier this year. The performance sedan was being touted as a return to sporty vehicles for Acura with an all-new engine, an updated all-wheel-drive system, and a double-wishbone front suspension setup. The sedan looked promising, though, we were missing one major figure – what kind of power the engine would make. Now we know the answer and it's 335 horsepower.
Acura recently announced that the TLX Type S' turbocharged 3.0-liter V6 engine is rated at 355 horsepower and 354 pound-feet of torque. The current 3.5-liter V6 engine in the TLX makes 290 hp and 267 lb-ft of torque. So, the new engine in the TLX Type S gets a 65-hp bump and an increase of 87 lb-ft of torque. While the new engine brings a good amount of horsepower, the increase in torque is really surprising.
Compared to the competition, the TLX Type S lands in the middle of the performance segment. The TLX Type S has more power than the Audi S4, which comes with a turbocharged 3.0-liter V6 that's rated at 349 hp, but falls behind the BMW M340i and the Mercedes-AMG C 43. The BMW comes with a turbocharged 3.0-liter inline-six engine that's rated at 382 hp. The AMG C 43 is powered by a turbocharged 3.0-liter V6 that generates 385 hp. Based on just horsepower, the TLX Type S is no longer woefully underpowered, but fits right in.
What we're still waiting to hear about is the price. All we know is that the regular TLX will start in the mid-$30,000 range. Our best guess is that the TLX will cost somewhere around $36,000 for 2021. We think the TLX Type S will start around the $45,000 mark. We shouldn't have to wait too long to hear about pricing, as the regular 2021 Acura TLX will go on sale this fall. The sporty TLX Type S will arrive at dealers next spring.