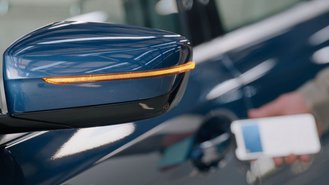 BMW was one of the first automakers to implement wireless Apple CarPlay to its vehicles and now the German automaker is looking to expand its Apple-friendly services with Digital Key for iPhone. Instead of carrying a key, owners of the new 2021 BMW 5-Series will be able to open, unlock, and start their vehicle from an app on their Apple smartphone. The digital key is coming to iPhone XR, iPhone XS, and newer, as well as Apple Watch 5 as long as they're running iOS 13 or upcoming iOS 14.
For owners of the new 5-Series, and more BMW models down the road, they'll be required to set things up through the BMW app. Once setup is complete, owners can open the car with a simple tap of the smartphone to the door handle. Once inside the vehicle, placing the smartphone in the charging tray allows you to start the car. The system works because of NFC technology and can be shared with up to five other people through Apple's iMessage texting app. Owners can share full access to the car or access to a restricted driving profile that allows them to set restrictions on horsepower, top speed, maximum radio volume, and other features.
Upon release, 5-Series owners will have to physically take their Apple smartphones out to open and start the car and click on the digital key in the iPhone Wallet app. BMW says that it's working to allow owners to be able to complete these things while keeping their smartphones in their pockets. This would make it similar to a lot of current hands-free car keys on the market.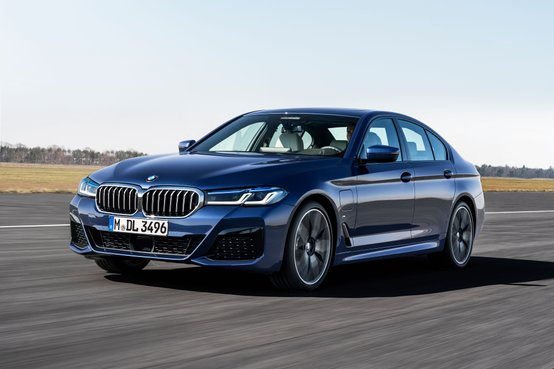 Tying something as important as a car key to a smartphone, which, if you're anything like us, is prone to dying often, is scary. Thankfully, BMW and Apple have thought about that. The automaker claims that there's a power reserve feature where the car key will still work for up to five hours after the iPhone turns off because of a low battery. For people that are worried about security, Apple claims that the digital key feature can be disabled for other drivers from the owner's phone and access to the car can be revoked through iCloud.
BMW claims that it is planning to expand the list of vehicles that are available with Digital Key for iPhone to nearly every vehicle in the brand's lineup as long as it was manufactured after July 1, 2020. Apple is working with auto-industry groups to expand digital key to other automakers.
This technology isn't the first of its kind for the automotive scene, BMW already offers something similar for Android users. As far as other automakers, Tesla has a similar system for the Model 3, where owners can unlock, lock, and start the electric car with an authenticated smartphone. Instead of requiring owners to remove the smartphone out of their pocket, Tesla's system uses Bluetooth to work. So, your smartphone will have to have Bluetooth on and a decent amount of juice. Unlike BMW, Tesla's backup is a key card, which the automaker recommends keeping on your person just in case your phone dies or the Bluetooth connection doesn't work.