Despite blowback from consumers, journalists, and the majority of enthusiasts that have social media accounts, BMW decided to continue down its path of fitting its vertically-oriented grilles on the front end of its vehicles. BMW recently introduced the all-new 2021 M3 and two-door M4 and, unsurprisingly, the vehicles get the same overall design and controversial front end as the recently designed 4-Series. Calling the M3 and M4's front ends controversial is kind, but if you can look past the grilles, the sporty vehicles offer far more performance than before.
The new grille designs are awful, but they follow BMW's recent styling from what we've seen on the X7, 4-Series, 7-Series, and 8-Series, so it's not like this came out of the blue. But we still have to say that they're hard to look at. Additionally, the sharp headlights, ferocious design of the hoods, and gaping air vents all draw your sight to the grilles. There's good news, though, because if you're on the inside of the M3 or M4, you won't have to look at the grilles and can enjoy the handsome interior and excellent performance.
Behind those hideous grilles sits a twin-turbocharged 3.0-liter inline-six engine that produces 473 horsepower and 406 pound-feet of torque. That's more than last year's M3 and M4, which had a similar engine that was rated at 425 hp. If that's not enough, both models are offered with Competition Packages that come with 503-hp versions of the engine. That's 59 more hp than last year's Competition Package. An eight-speed automatic transmission and a six-speed manual are available for the regular M3 and M4, while the automatic is the only one available for the Competition models.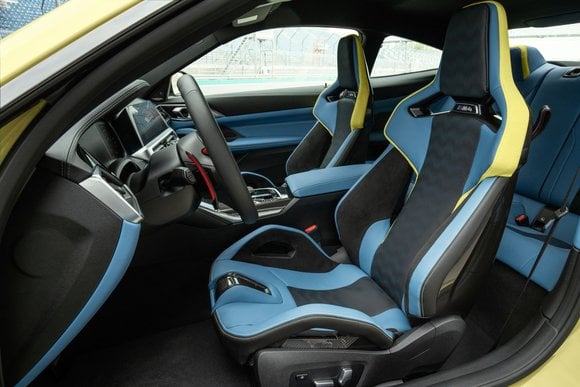 In a first for the M3 and M4, all-wheel drive will be available as an option. The base M3 and M4 models come with rear-wheel drive, but an optional M xDrive system will be available on Competition models. The system will bring extra traction, along with 73 extra lb-ft of torque. The all-wheel-drive system is rear-biased and sends power to the rear wheels until it senses that extra traction is needed.
Compared to the regular 3- and 4-Series, the high-performance M3 and M4 have different power-steering systems, increased body and chassis rigidity, six-piston front brakes, forged alloy 18-inch wheels in the front, 19-inch wheels in the back, and larger performance tires. Optional M Carbon ceramic brakes are available.
On the inside, the M3 and M4 get massive tech overhauls. Both come with a 12.3-inch instrument cluster and a 10.25-inch infotainment display with BMW's latest iDrive system, which means wireless Android Auto and Apple CarPlay, as well as the brand's cloud-based Maps are included. The latest set of driver-assist features, like forward collision warning, pedestrian detection, lane departure warning, automatic emergency braking, rear cross traffic alert, and blind spot monitoring are standard. Thankfully, drivers can turn a lot of the systems off with a few pushes of the M Mode button.
Beyond the technology, the cabin's design gets a sportier overhaul. There are new sport seats that have loads of bolstering, integrated head restraints, and an illuminated model badge. A new set of electrically-adjustable M Carbon bucket seats are optional that also have an illuminated model badge and integrated head restraints. The carbon seats are 21 pounds lighter than the standard sport seats.
Additionally, BMW seems to be embracing bright colors, as the M4 it revealed had a funky neon green exterior paint job and a blue interior with body-color sections. Of course, consumers will still be able to get more traditional designs, but it's nice to see BMW embrace some fun colors with the new models.
Pricing for the 2021 BMW M3 starts at $70,895 (including destination) and the M4 costs $72,795. The Competition Package is an additional $2,900. BMW stopped offering the M3 for the 2018 model year, but before it went away, it cost $66,495. The current M4 starts at $70,145 and the Competition Package is an extra $4,750. The new M3 and M4 may be more expensive than before and have ugly front ends, but they're far more capable than ever before, retaining their statuses as the benchmarks in the segment.