Buick is planning to cut the number of variations for its most affordable model in half for the coming year. According to a dealer order guide, the 2021 Encore will be sold in just 2 trims: Base and Preferred. As a result, shoppers will see less of an overlap with the newer Encore GX but will lose some features in the process.
The current Encore is sold in 4 styles: Base, Preferred, Sport Touring, and Essence, with MSRPs ranging from $24,195 to $31,795 including destination. For 2021, the Encore will continue to start at $24,195 but will top out at $26,215 with the Encore Preferred with all-wheel-drive. However, there will be some drawbacks.
For example, the loss of the Sport Touring and Essence will mean that features often associated with luxury vehicles like leather seats, an auto-dimming mirror, dual-zone climate, and LED headlights will no longer be available. Those looking for these types of features will likely find themselves upgrading to the Encore GX.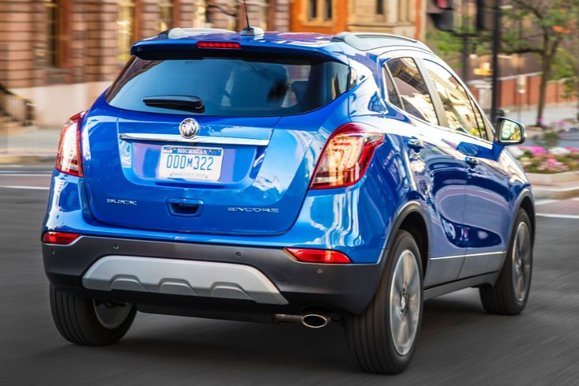 For reference, prices for the 2021 Encore GX will range from $25,195 to $31,595. Our last review found that a better range of tech and a more versatile layout helped make the GX a compelling alternative. That said, the standard Encore will probably continue to appeal to buyers shopping primarily based on price.
As before, the Encore will come with a 1.4-liter turbocharged engine rated at 138 hp and 148 lb-ft of torque. As we reported previously, a more powerful 153 hp engine was discontinued for 2020. Meanwhile, the 2021 GX will continue to offer a choice between two turbocharged engines ranging from 137 hp to 155 hp.
Based on our analysis, the changes appear to resolve an issue we uncovered last year whereby a higher-trim GX could be $800 cheaper than an Encore in the same style. A move toward simplification is also in line with our recent discovery that the 2021 Envision will offer a more streamlined lineup as well as lower prices.
Explore The Cheapest Luxury Car & SUV Leases »
2020 Encore pictured