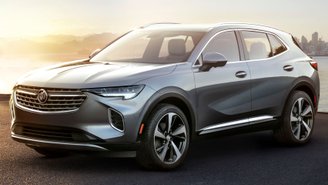 Buick will cut prices on the all-new 2021 Envision, according to a dealer order guide and confirmation from a company spokesperson. Based on our analysis, the redesigned 2-row SUV will be up to $1,700 cheaper than the previous generation.
With an MSRP of $32,995 with destination, the 2021 Envision Preferred will be $1,700 less expensive than the same trim in 2020 ($34,695). Although the Essence trim carries on at $36,995, there's another big price cut at the top of the range.
At $43,195, the most-expensive style will be the new Avenir model with all-wheel-drive. That's $1,600 less than the 2020 Essence II trim ($44,795). Unlike the current SUV, shoppers will get a front-wheel drive option priced from $41,395.
The changes have a pretty clear goal. In an email to CarsDirect, spokesperson Chad Lyons stated "The All-New Envision will offer a more simplified lineup with lower price points and provide three unique exterior appearances to broaden it's appeal."
That's quite a bit different from the brand's original strategy. When it first arrived in 2016, the Envision was actually $10,000 more expensive ($42,995) due in large part to the fact that the model launched in a Premium trim with all-wheel-drive.
With the latest changes, the model will further undercut vehicles like the 2020 Lincoln Corsair ($36,940) and 2021 Acura RDX ($39,225). The 2020 Envision already ranks as one of the cheapest luxury SUVs you can lease due to favorable incentives.
In addition to sharper looks akin to the Encore GX, the new Envision will offer a big step up in tech compared to the previous generation. For example, driver assistance features like automatic emergency braking will become standard on all trims.
But will a simplified lineup have drawbacks? For example, the only powertrain option will be a 2-liter turbo rated at 230 hp. Although that's more than the current 197-hp base engine, it's slightly less than the optional 2-liter turbo rated at 252 hp.
That said, our review of the 2020 Envision described the base engine as "underwhelming" and the turbo as having an "unquenchable thirst for premium fuel." Will the new approach strike a better balance for drivers? That remains to be seen.
But a lower price tag probably won't hurt.
Editor's Note: Although Mr. Lyons confirmed that the Envision Preferred will become the new base trim, the order guide still lists an entry-level 1SV trim but with no pricing. We've asked for clarification and will update this article once we receive a response.