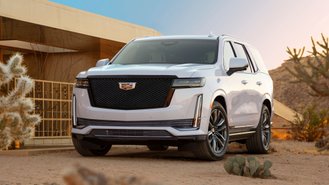 The 2021 Cadillac Escalade will raise the SUV name to new heights. With things like Cadillac's Super Cruise driver-assist system, an enormous three-piece OLED infotainment screen, and an available 36-speaker audio system, the Escalade certainly raises the bar when it comes to tech. But, the Escalade is still a gigantic SUV with a massive V8 engine. So, it shouldn't be all that surprising to hear that the SUV still gets terrible fuel economy.
Power for the Escalade still comes from a 6.2-liter V8 engine as standard, though the engine has been updated with improved cylinder-deactivation technology. The motor is rated at 420 horsepower and 460 pound-feet of torque, the same amount as before. According to the EPA's official fuel economy figures, the rear-wheel-drive 2021 Escalade is rated at up to 15 mpg in the city, 20 mpg on the highway, and 17 mpg combined. The combined figure matches the 2020 Escalade. Adding four-wheel drive to the SUV brings the combined rating down to 16 mpg, one worse than last year.
While the new Escalade gets the same combined rating as last year, at least for rear-wheel-drive models, there's a large difference when you look a little closer at the numbers. The 2021 Escalade is rated at 20 mpg on the highway, while last year's model is rated at 23 mpg. The new Escalade does get better fuel economy in the city, but only by 1 mpg.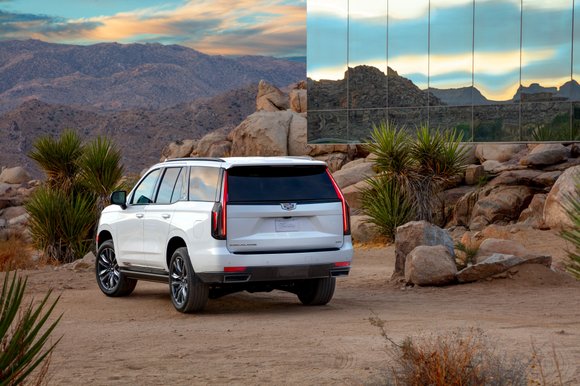 It's interesting to see the difference, especially with Cadillac introducing better cylinder-deactivation technology and all for the 2021 Escalade. Usually, when an automaker rolls out an all-new model, fuel economy is one of the important things that's supposed to be improved on. In the case of the Escalade, it looks like Cadillac felt like changing other areas on the large SUV was enough.
Full-size luxury SUVs like the Escalade have never been about fuel economy. So, the 2021 Escalade's numbers aren't terrible for the segment. The all-new 2021 GMC Yukon is available with a 5.3-liter V8 engine that's rated at up to 18 mpg combined, while the 6.2-liter V8 engine gets the same 17 mpg combined rating as the 2021 Escalade. The Lincoln Navigator can get up to 19 mpg combined, the most efficient Mercedes-Benz GLS-Class is rated at up to 21 mpg combined, the BMW X7 has a combined EPA rating of 22 mpg, and the most efficient Land Rover Range Rover can get up to 24 mpg combined.
Official fuel economy figures for the upcoming 3.0-liter turbo-diesel six-cylinder engine, which will be a no-cost option, have not been announced yet. We're expecting the diesel engine to be much more fuel efficient than the 6.2-liter V8.