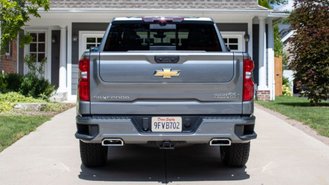 One of the more innovative features found on the GMC Sierra 1500 when it arrived as an all-new model in 2019 was its MultiPro tailgate. The multifunction tailgate gives consumers seven different ways to use the tailgate, starting a tailgate war that Ram followed up with its own design and left Ford scrambling to come up with an answer. Now, we know that Chevrolet will introduce a multifunction tailgate on the Silverado 1500, cementing General Motors' position at the head of the tailgate wars.
Details on the Silverado's tailgate design are light. All the automaker is willing to say at the moment is that the tailgate will be called Multi-Flex and will have six unique configurations. More updates are coming on September 21. Along with the confirmation, Chevrolet put out a quick video showcasing the Mulfi-Flex tailgate's flexibility and it certainly looks like it's handier than a traditional tailgate.
Based on the short video, an inner portion of the tailgate can operate somewhat independently from the large tailgate, being able to flip up to act as a stopper for long cargo, flip down to make it easier to reach into the bed, and further flip down to be able to act as a step. It looks similar to GMC's MultiPro tailgate on the Sierra, but we're sure there will be some differences between the two to maintain GMC's position as a more upscale brand.
The 2021 Silverado models are the first to come with GM's multifunction tailgate. Chevrolet didn't provide any information on which trims the Multi-Flex tailgate will be offered on or how much it will cost. For GMC models, the MultiPro tailgate is available on the SLT, AT4, and Denali trims. Chevy could follow a similar model by only offering it on a few trims.
Beyond GMC and Chevrolet, Ram's the only automaker that offers a multi-function tailgate on the 1500. Ram's option comes with a tailgate that does more than just flip down. The $995 option on the Ram 1500 brings the ability to open the tailgate like a pair of barn doors to make it easier to reach into the bed.
GM started the tailgate wars with the GMC Sierra 1500 as a way to sway drivers away from the Ford F-150, Ram 1500, and Chevrolet Silverado 1500. Ram followed suit with its barn-door tailgate and now the Silverado's joining the party. Ford is the only automaker out of the Big Three that doesn't offer a multifunction tailgate on its pickup truck although that may be changing soon. While pickup trucks were once all about horsepower, towing capacity, and payload capacity, they've quickly become do-it-all vehicles with high-tech infotainment systems, luxurious features, and unparalleled levels of versatility. Multifunction tailgates help make pickups even more versatile and add another dimension to a component that hasn't changed in decades.