Chevrolet shocked the industry when it announced that the mid-engine C8 Corvette would carry a starting price tag just shy of $60,000. That price made it one heck of a bargain, being priced similarly to the Chevrolet Camaro ZL1, Ford Mustang Shelby GT350, and Porsche 718 Cayman T. The second the C8 Corvette came out, reports indicated that after the first full year of sales, Chevy was planning to jack up the price of the sports car. Luckily, for all the consumers that missed out on purchasing a 2020 Corvette, it sounds like pricing for the C8 Corvette won't go up in 2021.
According to Autoblog, Tadge Juechter, the sports car's chief engineer, the C8 Corvette's starting price won't budget for the 2021 model year. He made the announcement during the National Corvette Museum Virtual Bash online stream. That means the coupe body style will start at $59,995 (prices include destination), while the convertible will cost $67,495.
Additionally, Juechter also shared a few other details about the 2021 C8 Corvette. Next year, Chevrolet's magnetic suspension system will become a standalone option. At the moment, the only way to get the brand's excellent setup is by opting for the Z51 performance package. Two new exterior colors will replace two current ones – Silver Flare Metallic will replace Blade Silver and Red Mist Tint Coat will oust Long Beach Red.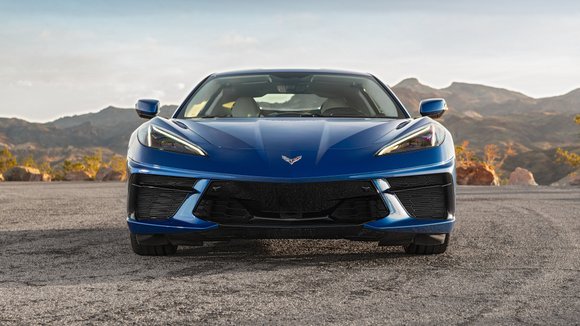 While we're a little skeptical about hearing pricing information from an engineer, this would be great news for consumers, as the C8 Corvette has been riddled with production issues and has been difficult to find on dealer lots. First there was the UAW strike, then the coronavirus led to another stoppage in production. Those two issues made it almost impossible for consumers to find C8 Corvettes for sale in the U.S., as major third-party car-listing sites only had around 30 units in sale nationwide earlier this May. The majority of those were pricey 3LT trims.
With all of the issues with the 2020 C8 Corvette, Chevrolet recently decided to extend production of the 2020 model year until October. Originally, the 2021 model year was supposed to begin this September. Now, reports indicate that 2021 C8 Corvettes will begin being manufactured in November. Pushing production of the 2020 model year back by a few months will help the automaker make up for lost time. For consumers, it means they'll have more time to purchase a 2020 C8 Corvette.
Usually, cars get more expensive every year. Whether it's an increase in destination or the addition of a few new features, automakers find a way to justify an increase in pricing, regardless of how small it may be. Seeing a highly sought-after sports car like the C8 Corvette, especially after all the production woes that it's been through, enter the 2021 model year without an increase in pricing is surprising.