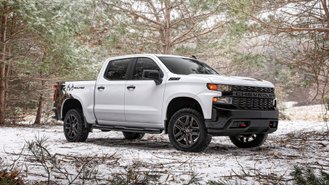 Consumers that want their trucks to blend in with nature on a hunting or fishing expedition just got a new option to explore. The 2021 Chevrolet Silverado Realtree Edition is a vehicle that was built in partnership with Realtree that's firmly aimed at individuals that enjoy exploring the great outdoors. Naturally, the special edition pickup has a few patches of camouflage and some performance upgrades to stand out from the other special edition Silverados.
Thankfully, Chevy didn't wrap the entire Silverado in camo, but just a few areas, like a small area on the hood and above the rear wheels. Realtree's logo is prominently displayed on the rear fenders and on the bedliner. There's also a little speckle of camo on the door trim on the inside. Apart from the camo and Realtree logos, the Realtree Edition comes with rectangular dual exhaust tips that are finished in black, four-inch black assist steps, and black badges.
Chevrolet and Realtree chose the capable Silverado Custom Trail Boss trim as the starting point for the special edition. That means the pickup comes with a two-inch lift, knobby Goodyear Wrangler tires, and 20-inch wheels on the outside. The Z71 Off-Road package is also included and adds Rancho shocks, an automatic locking rear differential, an AutoTrac two-speed transfer case, and heavy-duty skid plates.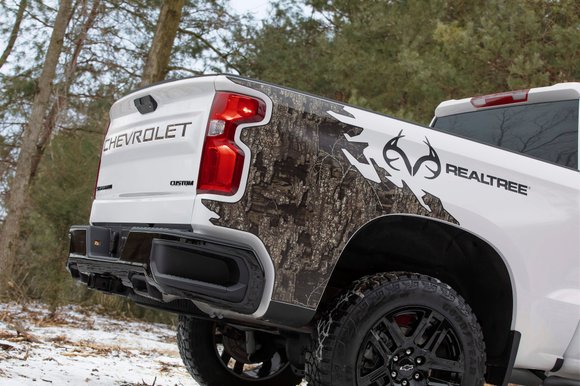 Power for the Silverado Realtree comes from a 5.3-liter V8 that produces 355 horsepower and 383 pound-feet of torque as standard. The engine is paired with a six-speed automatic transmission. A more powerful 6.2-liter V8 that's rated at 420 hp and 460 lb-ft of torque will be available. That engine comes with a 10-speed automatic.
This isn't the first time the two companies have collaborated. Chevrolet came out with a Silverado Realtree Edition back in 2016 that also had a lot of the same exterior and performance components.
Chevrolet hasn't announced official pricing for the special edition truck yet. That information will come out before the vehicle goes on sale, which will be this summer. Consumers that want to see the Silverado Realtree Edition in person will be able to get a peek at the vehicle at the 2020 SHOT (the Shooting, Hunting, Outdoor Trade Show) in Las Vegas, Nevada this month.