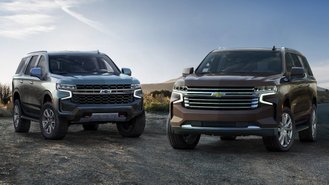 For many American automakers, like Chevrolet, full-size SUVs are incredibly popular. Gas continues to be priced reasonably and SUVs are quickly becoming the most popular body style on the market. All of this means that it's a good time as any for Chevy to give the Suburban and Tahoe major redesigns for 2021.
Major news includes a look that's taken from the new Chevrolet Silverado 1500 and a new independent rear suspension. The SUVs are larger than before, too, as the Tahoe has a wheelbase that's 4.9 inches longer than before, while the Suburban's wheelbase has been stretched by 4.1 inches. With the longer wheelbases and the independent rear suspension system, Chevrolet has increased the amount of space, specifically cargo space, for the SUVs.
The Tahoe sees the largest increase in cargo capacity, as the SUV can now hold 26 cubic feet of cargo behind the third row (up from 15 cubic feet). Rear legroom is also up an incredible 10 inches than before in the third row, as the Tahoe now offers 34.9 inches of third-row legroom. Improvements in the cargo area for the Suburban aren't as dramatic. The large SUV sees cargo capacity go up by 2 cubic feet behind the third row. Rear legroom in the third-row increases by 2.2 inches.
A quick comparison with the Suburban against the Ford Expedition Max reveals that Chevy's improvements have made it the victor when it comes to cargo space. The Suburban can hold a maximum of 144.7 cubic feet of cargo, while the Expedition Max has 121.5 cubic feet of cargo space.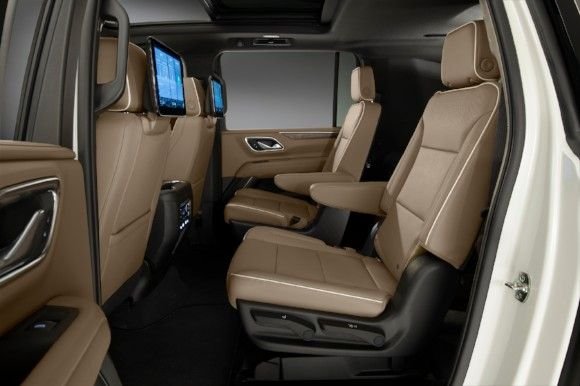 Another interesting change comes in the form of the Suburban and Tahoe's engines, as a diesel motor is now available. The large SUVs borrow the turbodiesel 3.0-liter inline-six from the Silverado, becoming some of the few SUVs on the market to have a diesel option. Power is rated at 277 horsepower and 460 pound-feet of torque. The Duramax diesel engine will be available throughout the Suburban and Tahoe trims, except for the off-roading oriented Z71 models.
It's interesting to see Chevrolet offer a diesel in the new Suburban and Tahoe, as they've all but been cut out of the U.S. market except for heavy-duty pickup trucks. And even in terms of pickup trucks, diesels have just returned for full-size options. Only time will tell if consumers are still interested in diesels, but the engine makes plenty of sense in the new full-size SUVs because of its low-down grunt and towing capability.
There are some things we don't know yet, like pricing, towing capacity, and fuel economy. With all of the changes, we're sure pricing will increase by at least a few thousand dollars. The new versions of the SUVs will go on sale in the middle of 2020.