Earlier this month, the EPA announced its first fuel economy figure for the 2021 Chevrolet Trailblazer. With the larger turbocharged 1.3-liter three-cylinder engine and all-wheel drive, the Trailblazer managed to get a respectable 28 mpg combined. Now, the EPA has revealed the full fuel economy figures for the subcompact SUV, and they're what you'd expect to see from the class.
The Trailblazer is available with two turbocharged three-cylinder engines. The standard one displaces 1.2-liters, while the more powerful optional motor is 1.3-liters. If you want the most efficient Trailblazer, you'll have to go with the powertrain that includes the 155-horsepower 1.3-liter three-cylinder, front-wheel drive, and standard continuously variable transmission (CVT). Together, that combination is rated at up to 31 mpg combined.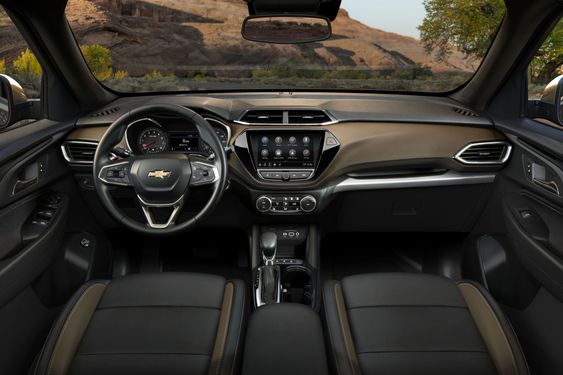 If you choose to stick with the standard 137-hp 1.2-liter three-cylinder with front-wheel drive and the CVT, you're looking at a combined rating of 29 mpg. As we reported earlier, the 1.3-liter three-cylinder with all-wheel drive, which comes with a nine-speed automatic is the least efficient configuration in the lineup, carrying a combined rating of 28 mpg.
For the subcompact class, the Trailblazer's fuel economy is commendable, but slightly behind segment leaders. The Nissan Kicks is the king of fuel economy with a combined rating of 33 mpg. The new Hyundai Venue is slightly behind that mark with a 32-mpg combined figure. Then comes the Kia Seltos, which matches the Trailblazer's 31-mpg combined rating. So, the Trailblazer is certainly toward the top of the pack. Chevy's little SUV is more efficient than the Honda HR-V (30 mpg combined), Hyundai Kona (30 mpg combined), Subaru Crosstrek (30 mpg combined), and Toyota C-HR (29 mpg combined).