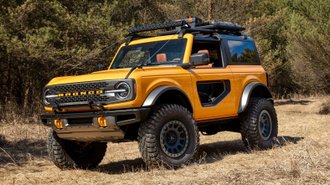 Ford absolutely hit it out of the park with the 2021 Ford Bronco. The SUV is a well-thought-out vehicle with tons of off-roading capability and design elements that mirror the original Bronco's, you only needed to look at the vehicle once to know that it would be a hit. Don't believe us? Autoblog reports that the limited Bronco First Edition, which Ford was accepting reservations for, has sold out – less than a day after it was announced.
Last night, when Ford unveiled the 2021 Bronco, the automaker put up a website for consumers to reserve all of the SUV's trims. At times, the website was down because of demand, requiring visitors to wait 60 seconds before visiting the actual reservation page. Once there, consumers could put down a refundable $100 deposit. Now, the page reads "Reservations Full" for both two- and four-door variants of the First Edition.
This wasn't expected. Ford did a great job ensuring leaks and information of the Bronco didn't get out. So, people that did manage to reserve a First Edition must have really liked what they saw to be that quick to reserve a trim. Usually, First Edition vehicles don't sell out this quickly. With 3,500 units of the First Edition planned to be built, Ford must have gotten swamped with reservations for the vehicle.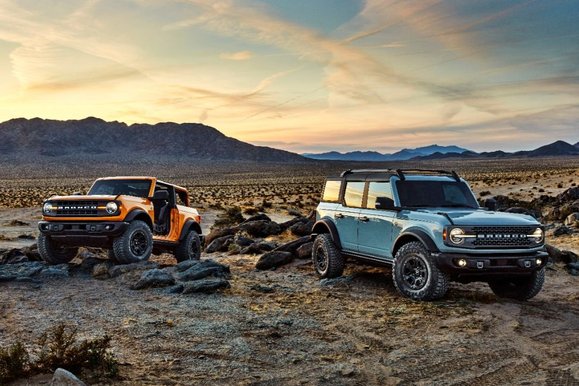 For consumers that were lucky enough to place a reservation for the First Edition, the process is simple enough. When you provide your $100 deposit, you also choose your preferred dealer. Before the end of 2020, the dealer you chose will reach out to you and begin the process of configuring your Bronco First Edition. Your SUV, if everything stays on schedule, will arrive by spring 2021.
If you missed out on the First Edition, don't fret, the other six trims can still be reserved. For those, the reservation process will work similarly as it does with the First Edition. At the time of writing, it doesn't look like the 2021 Bronco Sport was as popular. All five of the subcompact off-roader's trims can still be reserved, including the limited First Edition.
The First Edition is the range-topping trim in the Bronco lineup. It combines all of the best qualities of lower trims, coming with adaptive cruise control, a 10-speaker Bang & Olufsen audio system, a wireless charging pad, leather upholstery, a black hard top, and a safari bar. It also comes with the Sasquatch Package that adds locking differentials, 35-inch tires, a 4.7 final drive-ratio, upgraded suspension, and massive fender flares.
For Ford, selling out of the First Edition trim so quickly is an excellent sign. It looks like the Jeep Wrangler finally has some serious competition.