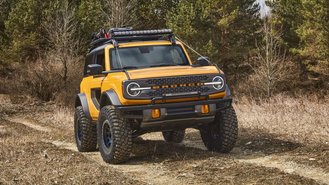 The 2021 Ford Bronco has been a tremendous hit. Less than a day after Ford took the wraps off the rugged SUV, the automaker sold out of reservations of the limited First Edition trim. Initially, Ford only offered 3,500 units of the First Edition, but then doubled the amount when it got overwhelmed with interest. Those models got scooped up incredibly quickly, too. While a lot of attention has been on how Ford sold out of its First Edition models, Bronco forum Bronco6G claims that the automaker received a total of 230,000 reservations.
That's a staggering amount. An administrator named Doug provided the information on the site, claiming that Ford received that many reservations from July 13th, which is the date it opened reservations online for the entire Bronco lineup. Doug claims that the information is from a reliable source and does not include any reservations that were made for the smaller Bronco Sport.
Doug doesn't provide any more information on a breakdown of the reservations. So, we don't know if one trim is more popular than another. But on a different page of the forum, the administrator has compiled a thorough breakdown of reservations for Bronco6G members. According to that breakdown that includes a total of 2,444 reservations, the majority of reservations are for the Badlands trim (28.1%). Then, it goes Wildtrak, First Edition, Outer Banks, Black Diamond, Big Bend, and Base. The majority of reservations are for the four-door model (62.6%)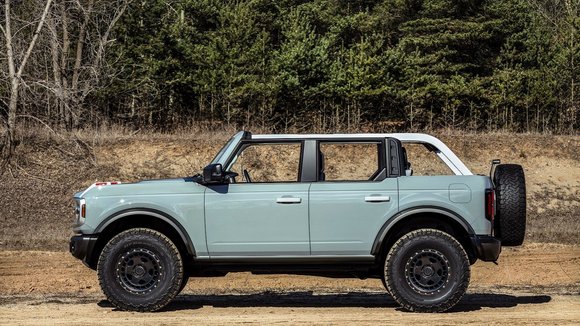 This is an insane amount for an SUV that the majority of people haven't seen in the flesh yet, but consumers have been waiting for the automaker to revive the nameplate for decades. The SUV is also a true rival to the Jeep Wrangler, which has gone without a competitor with the ability to remove the doors and roof and off-roading prowess. The only other time we've seen a vehicle be this popular is with Tesla's Cybertruck. Earlier this June, Electrek reported that pre-orders for the Cybertruck rose to over 650,000 units. The truck was unveiled in November 2019 and Tesla received over 250,000 pre-orders after the first week.
The high number of reservations could be accurate, as a report from Car & Driver recently stated that consumers could be waiting as long as 18 months to receive their Bronco. That means some reservation holders could be waiting until 2022. It's going to take Ford a long time to get all 7,500 reservations for the First Edition out first before switching gears to work on other trim levels.
Clearly, Ford hit it out of the park with the Bronco, as traditional automakers rarely get this kind of attention for all-new models. While getting 230,000 reservations for the Bronco is incredible, we're interested in seeing how many of those reservations will turn into official orders.