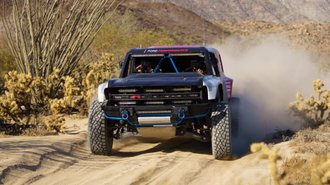 The Ford Bronco is one of the more anticipated vehicles of 2020. Rugged off-roaders are falling by the waysides, so the hype surrounding the SUV that's bringing the iconic nameplate back is understandable. While we're all anxiously awaiting the reveal of the new 2021 Ford Bronco, we're slowly learning more things about the SUV, like how it will have three different grille designs.
Ford Authority, citing unnamed sources familiar with the new Bronco, reports that the SUV will have three different grille designs, each giving the vehicle a unique character. The grille designs will reportedly fit into three designs: Modern, Classic, and Custom.
The Modern grille was found on the uncamouflaged Broncos we saw earlier this year in a group of leaked photos. It features a minimalistic design with a black-colored grille and "BRONCO" written across the front in a bright contrasting color. The Classic grille will reportedly have a retro flair to it that will mirror the one found on the original Bronco from the '60s. Lastly, the Custom grille will feature a more upscale design thanks to its shiny look.
These grilles will also appear on the Bronco Sport, though they'll be slightly updated to fit the smaller SUV's stature. For both models, Ford Authority isn't sure if they'll be offered on specific trim levels or as options throughout the entire lineup. The outlet also believes that the grilles could be offered under a different name when the SUVs go on sale.
Ford typically offers different grilles for different models, but they're subtle differences that don't drastically change the look of a vehicle. The new Explorer has a few different grille designs depending on what trim level you go with, but it's certainly not anything that sounds as drastic as what will be offered with the Bronco and Bronco Sport.
The upcoming 2021 Bronco is expected to be based on the compact Ranger pickup truck and come with the same turbocharged 2.3-liter four-cylinder engine and have the same 10-speed automatic transmission. Rumors of a hybrid powertrain have also made the rounds. With an eye toward being a competitor to the Jeep Wrangler, we're also expecting the Bronco to have a removable roof and doors. Ford's done a good job of keeping the Bronco's specs a secret, so until we see the official SUV in the flesh, we really only have rumors to go off of.