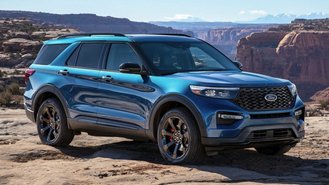 With the 2021 Ford Explorer, the American automaker is going against the industry trend by making the new model year more affordable than the previous one. We received official pricing that reveals the 2021 Explorer will be $540 cheaper than the 2020 model.
Including destination, pricing for the 2021 Explorer starts at $33,470. The popular XLT trim sees an even bigger cut, as that trim will start at $35,245, which represents a decrease of $2,925. The Limited trim gets a massive price cut of $3,670, bringing pricing down to $45,955 for rear-wheel-drive models. All-wheel drive raises the price to $47,345, which is a similar decrease as SUVs with rear-wheel drive.
The sporty ST trim goes down by $2,135 to cost $53,850, while the range-topping Platinum will start at $55,725 – a decrease of $3,770.
Without any major changes to features or physical ones to the SUV, it's interesting to see Ford make the Explorer more affordable for its second model year. The all-new Explorer had a tough birth, as Ford took a lot longer to retool its Chicago plant to make the shift from a front-wheel-drive architecture to a rear-wheel-drive one. When built, the Explorer, along with the Lincoln Aviator, had numerous quality control issues. With all of the setbacks, we're sure the Explorer wasn't flying off dealer lots for its first model year. The decision to decrease the 2021 model's price tag will help consumers forget about the rough first year.
Compared to major rivals, the 2020 Explorer was one of the more expensive vehicles in the class. The Explorer used to cost more than the Kia Telluride, Hyundai Palisade, Volkswagen Atlas, and Subaru Ascent. The Mazda CX-9 is one of the few competitors that was more expensive. With the decrease in pricing, the 2021 Explorer is still more expensive than the majority of its competitors, but the gap has shrunk. That should certainly make it more competitive in the segment.