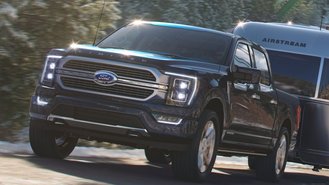 A new hands-free driving feature in the 2021 Ford F-150 will only be available in the most expensive trims, our analysis finds. According to an early dealer order guide, Active Drive Assist will only be offered in trucks with pricing over $55k. Even then, buyers will have to pay to activate the feature once it becomes available.
Although the new F-150 is priced from just over $30k, higher trims of the redesigned truck can reach almost $80k. To get Active Drive Assist, you'll have to step up to at least the Lariat Super Cab ($46,890 with destination). Although the option costs just $995 on paper, it requires a $6,920 package in order to get it.
But that's not all. In the Lariat, the option also requires either a 360-degree camera ($765) or the Tow Technology Package ($880). At that point, the price tag reaches over $55,000. Packaging quirks can vary by trim, but the only other styles to offer Active Drive Assist will be the King Ranch, Platinum, and Limited.
According to Ford, Active Drive Assist (video below for the Mach-E) offers hands-free driving "on more than 100,000 miles of divided highways in all 50 states and Canada." The Co-Pilot360 Active 2.0 Prep Package gets you the hardware, but you'll have to wait until Q3 of 2021 to pay to activate it via an over-the-air update.
But will buyers be willing to shell out more than $55,000 to get a feature they won't be able to use until late next year? Ford hasn't even announced what the activation will cost. Software-enabled features aren't a new concept. For example, Tesla sometimes includes tech you can pay to unlock at a later date.
Limiting a next-gen feature to the priciest trims isn't all that surprising. However, prices at the top of the range will be increasing by up to $3,590 compared to the 2020 F-150. Without expensive packages, our analysis finds that the only F-150 to come standard with Active Drive Assist will be the range-topping Limited.
Not interested in hands-free driving? Even the cheapest F-150 will come with safety features like automatic emergency braking. Stepping up to the XLT gets you access to Co-Pilot360 Assist 2.0, which adds pedestrian detection, blind-spot warning, and more. The new F-150 will also offer Adaptive Steering, but only in the King Ranch, Platinum, and Limited.
Stay tuned for CarsDirect's ongoing coverage of the latest pricing-related insights on the new F-150.