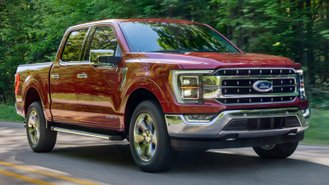 The redesigned 2021 Ford F-150 Diesel won't be available at the time of launch, according to an early dealer order guide. The 3.0L Power Stroke V6 is listed as having late availability with the all-new truck, which means you won't be able to buy one right away even though the model is due to go on sale this fall.
Although Ford hasn't released official specs yet for the turbodiesel, the current F-150 makes up to 250 hp with 440 lb-ft of torque and is capable up to 11,500 lbs of towing. EPA fuel economy figures come in at up to 24 mpg in combined city/highway driving. That's 2 mpg better than the 2020 F-150's entry-level 3.3L V6.
In terms of price, the cost of the 2021 F-150 Diesel varies depending on configuration. When upgrading from the base engine, it costs $4,995. When stepping up from the 2.7L EcoBoost V6, the cost is $3,800. Opting for it in lieu of the 5.0L V8 adds $3,000. The prices sound very similar to the cost of the new Hybrid V6 option.
Will the F-150 Hybrid end up stealing some of the diesel's thunder? The 3.5L PowerBoost Hybrid promises to offer best-in-class horsepower and torque, up to 12,000 lbs of towing, and the ability to travel up to 700 miles on a tank of gas. Dedicated drive modes can also aid towing, although fuel economy stats aren't yet available.
While we don't yet know what kind of wait buyers will be in for, the late availability of the F-150 Diesel could create an opening for competitors. For example, the 2020 RAM 1500 EcoDiesel is rated at 260 hp with 480 lb-ft and can tow up to 12,560 lbs. Fuel economy also beats the current F-150 with 26 mpg overall.
As we reported yesterday, the 2021 F-150 already has a number of equipment discounts. Although there are no incentives simply for choosing the hybrid, there is a $500 National Discount Package on the diesel. We'll have to wait to see whether the hybrid ends up being a more appealing (and easier to find) choice.