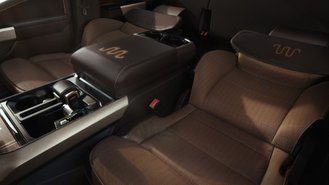 The 2021 Ford F-150 will offer a new feature called Max Recline Seats with the ability to lie almost completely flat. However, a recent dealer order guide reveals that the option will be limited to the most expensive F-150s and won't be available at the time of the redesigned truck's official launch this fall.
With a price tag of just $340, the Max Recline Seats offer 10-way adjustability and could be a compelling upgrade. That said, you'll have to choose a King Ranch, Platinum, or Limited trim in order to get it. The feature is a first for the F-150 and offers the ability to recline to almost 180 degrees.
The order guide lists the option as having late availability. Although we don't yet have details on how long buyers will have to wait, we think it's a quirk worth knowing about. It's not the only feature arriving late. As we reported earlier today, the 3.0L V6 Power Stroke V6 will arrive late, too.
Lie-flat seats (video above from Ford) are an innovative option some may find worth waiting for. However, as we noted yesterday, higher-trim versions of the F-150 will see price increases of up to $3,590 compared to the previous year. As a result, the price of entry to add the option could be higher than some might think.
Another quirk worth knowing about is that the feature won't be standard in any trim. That means a buyer could spend nearly $80,000 on an 2021 F-150 Limited and still have to pay the extra $340. While the Limited is certainly feature-packed, you'll still have to pay a little extra for the privilege of reclining (almost) flat.
Stay tuned for CarsDirect's ongoing coverage of pricing-related insights for the new F-150.