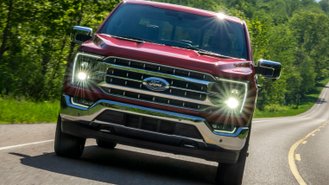 Ford's all-new F-150 pickup will arguably be the most feature-packed generation to date with options for hands-free driving, hybrid power, and more. However, a recent dealer order guide shows that some of the truck's new work-friendly features like a power tailgate and LED box lighting can be surprisingly expensive to buy.
Things start off reasonably with a new center console tray table that adds just $165. As shown in the below video, the option works with the truck's new folding shifter to create space for a laptop or when working with documents. It's available on all trims and could be a smart upgrade if your truck will serve as your office.
Next up, a nifty new tailgate option adds just $695 and can power both up and down (as opposed to just down in the current F-150). However, a closer look reveals that it'll only be offered on the most expensive trims. That means having to step up to the Lariat, which starts at $46,890 in the case of the 4x2 SuperCab model.
The upgraded tailgate (video below) includes a step and built-in work surface with rulers, c-clamp mount, and slots for writing utensils, cups, and mobile devices. Although it seems reasonably priced on paper, those planning to buy the more popular SuperCrew variant will end up seeing an MSRP that approaches $50,000.
Looking to take advantage of the F-150's new LED box lighting system? Although it's optional starting with the XLT trim for as little as $125, you'll have to add at least a $2,060 package in order to get it. In the case of a popular configuration like the XLT 4x4 SuperCrew, that can bring the vehicle's MSRP to nearly $48,000.
As we reported last week, the 2021 F-150 has a number of exciting options that look affordable but can get quite expensive. For example, Active Drive Assist adds just $995 but requires a nearly $7,000 package in the Lariat trim and brings the price past $55,000. Ford won't actually enable the feature until next year.
Similarly, the vehicle's new Max Recline Seats will only cost $340 but require choosing a King Ranch, Platinum, or Limited trim. That said, our analysis finds that the optional Pro Power inverter may end up being a pretty good deal for buyers with pricing ranging from $750 to $995 depending on your configuration.
Unfortunately, early equipment discounts that we uncovered worth up to $2,250 appear to largely favor appearance packages. That means those looking to buy an F-150 with some of the all-new truck's work-friendly features may find themselves paying a lot more than what some of the options appear to cost on paper.