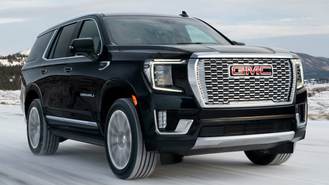 Pricing for the redesigned 2021 GMC Yukon will start at $51,995, a GM spokesperson has confirmed. The amount includes a destination fee of $1,295 and equates to a mere $100 price increase compared to the 2020 Yukon ($51,895). At the top of the range, an order guide reveals prices will surpass $86,000 when fully equipped.
In base form, the Yukon SLE could amount to a compelling value next to the current Yukon. Next up, the SLT trim has been priced from $59,095, while the first-ever Yukon AT4 will start at $66,095. The revamped Denali gains a slew of luxury features and will start at $69,695 for the 4x2 or $72,695 as a 4x4.
The more spacious Yukon XL will be available in the same trims but with prices that start $2,700 higher, ranging from $54,695 to $75,395. Fully-loaded, an XL Denali 4x4 will reach $86,650 with the Ultimate Package ($11,255) before discounts. That will put it well within the territory of the 2020 Cadillac Escalade ESV.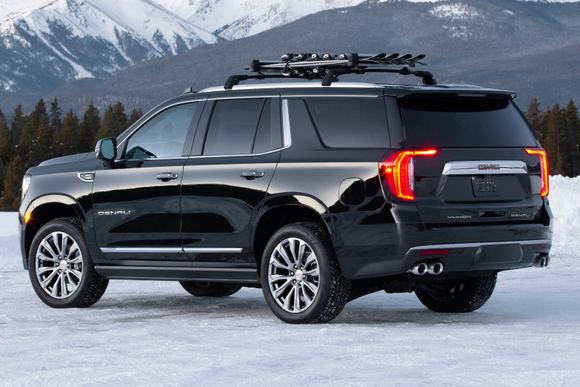 At $51,995, the 2021 Yukon will start $1,700 higher than the redesigned 2021 Chevy Tahoe ($50,295). Similarly, the Yukon XL will start $1,700 higher than the 2021 Suburban ($52,995). Official prices for the upcoming 2021 Cadillac Escalade has not yet been announced at the time of this writing.
In terms of price, the new Yukon appears well-positioned to compete with other full-size SUVs. For example, the 2020 Ford Expedition range from $54,505 but can reach nearly $82,000 fully-equipped. That said, while that's a higher base price next to the Yukon, Ford is already offering up to $6,000 off MSRP.
Although the new Yukon will technically be just $100 more than the vehicle it replaces, shoppers should be aware that 2020 Yukons feature a $3,500 incentive right now. However, waiting could yield even better deals. Last fall, 2019 Yukons were eligible for over $8,800 in savings as part of a 12% off promotion.