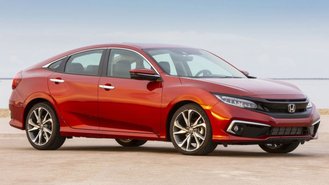 Honda was one of the few automakers to continue to offer manual transmissions in segments where others didn't. But no one wants to drive cars with manual transmissions anymore, which is why the Accord lost the manual transmission for 2021. Following in the footsteps of its brother, Honda announced changes for the 2021 Civic sedan and the compact vehicle is following suit by being automatic only.
With the Civic coupe officially being dead for the 2021 model year, the changes will only affect the sedan next year. For 2020, the Civic sedan was available with a six-speed manual transmission for the Sport trim. Going forward, it looks like the sedan will only be available with a continuously variable automatic transmission (CVT) throughout the entire lineup.
Compared to 2020, ditching the six-speed manual sees pricing for the 2021 Sport sedan go up by $1,050. Last year, the 2020 Civic Sport started at $22,755 (including destination), while the 2021 model with the CVT is priced at $23,805. Comparing Sport trims with CVTs against one another reveals a more modest increase of just $250 for 2021.
The 2021 Civic hatchback, which is already listed on Honda's official website, looks like it will continue to be available with a six-speed manual transmission for the Sport and Sport Touring trims, but that hasn't been confirmed. Honda could make some last-minute changes before ironing out its 2021 lineup.
With a redesign on the horizon for the 2022 Civic, it's difficult to say whether Honda will continue to offer a manual with the model. One thing is for sure, while the Civic Si is taking a break for the 2021 model year, it will return with a manual transmission when it's redesigned for 2022. A manual transmission has been a hallmark detail of the Si for generations. Being the sporty, driver-focused trim in the lineup, we are expecting the Si to have a manual transmission as standard.