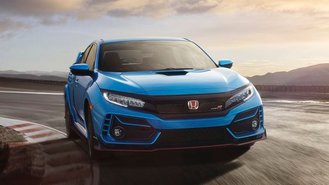 Hot on the heels of announcing changes to the 2020 Honda Civic Type R to make it easier to drive, Honda has announced a new 2021 Civic Type R Limited Edition that's lighter and aimed at drivers wanting even more performance at the track. Only 1,000 units of the special edition model will be built, with 600 of them coming to America. All of them will be finished in Phoenix Yellow and feature a serialized plaque on the center console.
The Civic Type R Limited Edition is, obviously, based on the updated Civic Type R. So that means power still comes from the 306-horsepower turbocharged 2.0-liter four-cylinder engine. Power may not have gone up, by Honda's done the next best thing by cutting weight. Thanks to forged aluminum BBS wheels, taking out sound-deadening materials and removing the hatchback's rear heating ducts, wiper blade, and tonneau cover, the special edition model is 46 pounds lighter than the regular Civic Type R.
Consumers in Europe will get even lighter versions of the Limited Edition, as those units don't come with infotainment or air conditioning systems. Those two items reduce weight by an extra 24 pounds. We don't see Honda offering to take these systems out of U.S. bound vehicles, because we're certain that consumers wouldn't purchase the vehicle if that were the case.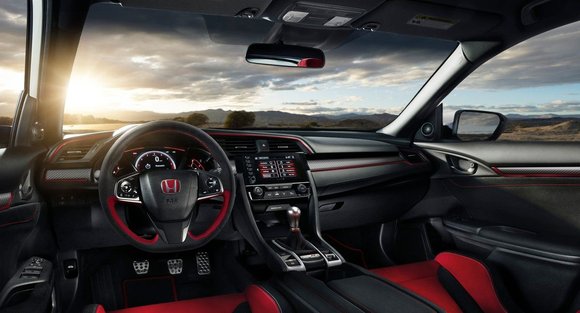 Changes go beyond putting the special model on a diet. The hatchback also comes with updated steering, a recalibrated version for its three-mode adaptive dampers, and high-performance tires. The latter includes a major upgrade to Michelin Pilot Sport Cup 2 tires, which are grippier than the Civic Type R's standard Continental SportContact 6 tires.
The changes sound like they were done to help the Civic Type R regain its claims as being the quickest front-wheel-drive car to lap the infamous Nurburgring. In 2017, Honda's hot hatchback managed a lap time of 7 minutes, 43.8 seconds. Not too long after, Renault introduced the Megane RS Trophy-R, which took the crown by roughly 4 seconds. Taking out weight, adding stickier tires, and returning the vehicle's suspension are great ways to ensure a quicker lap time.
The 2021 Honda Civic Type R Limited Edition will hit the market later this year. Honda hasn't announced pricing yet, but we're certain it will cost more than the regular model, which now starts at $38,905. As with other high-performance models, less, in this case, less weight, usually costs more.
Learn More About The Current Civic On Sale Now »
Pictured: 2020 Civic Type R