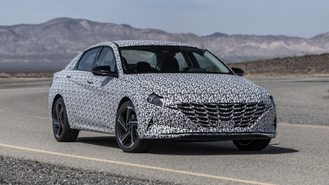 Hyundai is expanding its N-Line family of performance vehicles with a new addition: the 2021 Hyundai Elantra N-Line. Joining the Elantra GT N-Line hatchback and the upcoming Sonata N-Line, the N-Line version of the Elantra sedan is set to get performance upgrades, exterior enhancements, and a few unique touches on the inside. While Hyundai confirmed that the Elantra N-Line is coming, it didn't provide a whole bunch of other information on the sedan.
What Hyundai did say about the Elantra N-Line are things we already knew about the vehicle. The sedan will come with a turbocharged engine, chassis upgrades, and "N brand specific design elements." Based on the heavily camouflaged pictures Hyundai put out of the Elantra N-Line, it looks like the sedan will get sporty wheels and a different exhaust system. The rest is hidden away from prying eyes.
The current Elantra is powered by a 2.0-liter four-cylinder engine that makes 147 horsepower. With Hyundai confirming a turbocharged engine for the GT-Line model, we're confident that the brand will look to the turbocharged 1.6-liter four-cylinder found in the Elantra GT N-Line hatchback for power. In that vehicle, the engine produces 201 hp, a healthy boost of 54 hp from the Elantra sedan's standard engine. Transmission options for the 1.6-liter engine include a six-speed manual and a seven-speed dual-clutch automatic. We expect both options to carry over to the Elantra N-Line.
With the 2021 Elantra set to go into production this fall, we expect the N-Line trim to roll out shortly after – that is, if there are no more delays because of the coronavirus. Pricing is another aspect of the car that Hyundai is keeping to itself at the moment. The regular 2021 Elantra line hasn't been officially priced yet, but we expect things to start around $21,000. With the turbocharged engine and various other performance components, we could see pricing for the Elantra N-Line start at $25,000. At that price point, it would compete with the Honda Civic Si and the Volkswagen Jetta GLI.