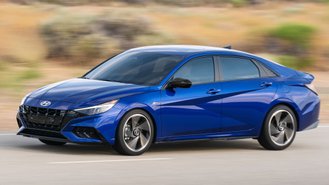 Just a few days after announcing the death of the Hyundai Elantra GT hatchback, Hyundai officially announced the introduction of the Elantra N line for the sedan body style. The sporty model becomes the most performance-oriented one in the Elantra family, offering consumers with a peppy turbocharged engine and a more athletic design.
Under the hood, the Elantra N Line will come with Hyundai's familiar 1.6-liter turbocharged four-cylinder engine that's rated at 201 horsepower and 195 pound-feet of torque. The engine can be paired to either a six-speed manual transmission or a seven-speed dual-clutch automatic. You don't need us to tell you this, but the manual is the obvious gearbox to go with.
While the turbocharged engine provides the oomph, Hyundai also made changes to the Elantra's suspension to improve stiffness and ensure the sedan can handle the extra power. Additionally, the Elantra N Line comes with larger front brake rotors and 18-inch alloy wheels. Just like the Sport trim, the N Line will come with an independent multi-link rear suspension.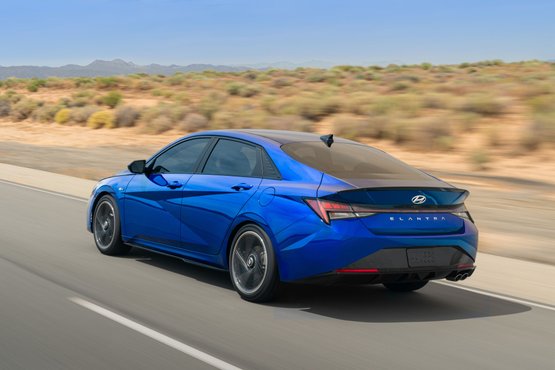 While the regular Elantra is already a sharply designed vehicle, the N line raises the ante with sharper touches. The compact sedan gets a more aggressive grille, special N Line badges, side skirts, a rear diffuser, twin exhaust outlets, and an integrated lip spoiler. The changes certainly look good and drive home the Elantra N Line's performance-forward character.
Hyundai made some updates to the N Line's cabin, too. The sedan gets sport seats, a new steering wheel, metal pedals, and, for consumers that choose the dual-clutch automatic, paddle shifters. Beyond those changes, the N Line comes with the same look and features as the regular Elantra. Wireless Apple CarPlay and Android Auto connectivity, along with Hyundai's extensive list of advanced safety features are included. So, consumers will find forward collision warning, rear cross-traffic alert, blind spot monitoring, and lane keeping assist on the N Line.
We were sad to hear about Hyundai's decision to discontinue the Elantra GT, but the Elantra N Line helps heal the sting. Hyundai hasn't announced pricing for the N Line yet, but we're sure it will be more than the current Elantra Sport, which starts at $25,125 including destination. The Elantra N Line will compete against the Honda Civic Si, Hyundai Veloster Turbo, and Kia Forte GT. Based on our initial impressions, the Elantra N Line should be competitive in the class.