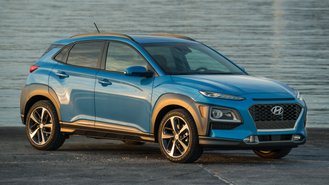 The Hyundai Kona isn't known for being a sporty vehicle but the Korean automaker is aiming to change that for the 2021 model year. According to an early order guide, the Kona will be gaining a Night Edition trim slotted in between the SEL Plus and Limited. Although it consists of purely aesthetic upgrades, including a slew of gloss black accents, this new trim could present an attractive option for shoppers.
The new Night Edition will start at $26,740 (including a $1,140 destination fee) for front-wheel drive, making it the cheapest way to get the 1.6-liter turbo option with the 7-speed dual-clutch transmission as it was previously only available on the Limited trim and higher. This setup is good for 175 horsepower and 195 lb-ft of torque. It will also come in all-wheel-drive which will run you an extra $1,400.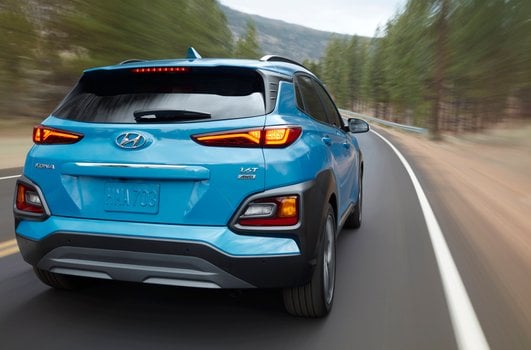 Most of the obvious changes will come on the exterior of the vehicle. To start, the Night Edition will gain three new paint colors: Galactic Gray (which was already available on the Kona Electric), Ultra Black, and Chalk White. Additionally, it's set to come with unique 18" semi-gloss black wheels made by RAYS, a Japanese wheel manufacturer popular for its aftermarket options. Carrying on the monochrome concept, gloss black accents will be found on the side mirrors and lower door trim. Unfortunately, the Night Edition will drop the sunroof and fog lights, most likely to stick with the sport theme and help reduce vehicle weight.
Moving to the interior, the focus on black continues with a trim-specific black headliner, more gloss accents on features like the interior door handles, and alloy sport pedals. However, conveniences like wireless charging and the auto-dimming rearview mirror will not be available.
Apart from adding the Night Edition, not much else is expected to change for the 2021 Kona. The guide indicates that the only other difference from the 2020 model will be available color options, as Lime Twist and Sunset Orange exterior paint and interior accents will no longer be offered.
Hyundai appears to be attempting to broaden its appeal for the 2021 model year. Similar to the Kona, the 2021 Palisade, Hyundai's popular three-row SUV, will also receive a new trim called the Calligraphy which aims to offer "full luxury". For the Kona, these changes coming with the Night Edition seem to be shaping the crossover into a great choice for those looking to get into something affordable yet sporty.
Learn more about the current Kona on sale now »
Pictured: 2020 Hyundai Kona