Hyundai showcased the redesigned 2021 Santa Fe earlier this June. At the time, Hyundai shared the new Santa Fe's updated design, which borrows quite a lot of elements from the larger Palisade, heavily revised cabin, and platform. Back then, we didn't get any information on what kind of powertrains would be included with the 2021 Santa Fe. Hyundai finally spilled the beans on what kind of engines the Santa Fe will be offered with, including a new base engine, a more powerful turbocharged option, and a hybrid variant.
The new base engine is a 2.5-liter four-cylinder that's rated at 191 horsepower and 181 pound-feet of torque. From last year's 2.4-liter motor, the new engine makes 6 more hp and 3 more lb-ft of torque. The engine is paired with an eight-speed automatic transmission and comes with front-wheel drive, with all-wheel drive being an option. Hyundai believes that the base powertrain is expected to have a combined fuel economy rating of 26 mpg, which is an improvement of 1 mpg.
Further up the lineup, there's a new turbocharged 2.5-liter four-cylinder engine that's a large upgrade over last year's turbocharged 2.0-liter four-pot. The 2.5-liter is rated at 277 hp and 311 lb-ft of torque, which represents an increase of 42 hp and 51 lb-ft of torque from last year's turbo 2.0-liter. While the extra power is sure to be appreciated by drivers, Hyundai believes the engine will be more efficient with a combined rating of 25 mpg compared to 23 mpg combined from the old 2.0-liter engine. The turbo engine comes with an eight-speed dual-clutch automatic and front-wheel drive, while all-wheel drive is also available.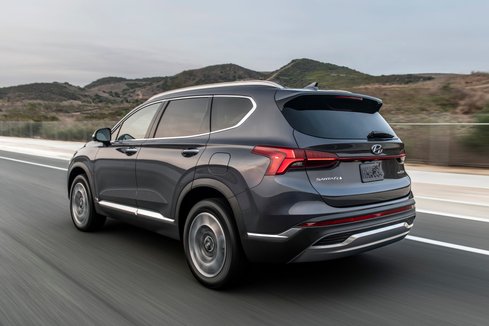 Major news for the 2021 Santa Fe is the addition of a hybrid powertrain. While Hyundai previewed a hybrid Santa Fe in 2010, this certainly looks like the first Santa Fe hybrid to be sold in the U.S. The new hybrid powertrain uses a turbocharged 1.6-liter four-cylinder engine and a 59-hp electric motor. Combined output is rated at 225 hp. The hybrid comes with a six-speed automatic and all-wheel drive as standard. Hyundai didn't provide any fuel economy estimates for the hybrid powertrain, though we're expecting it to be much more efficient than other available powertrains. The Santa Fe lineup will continue to grow with the addition of a plug-in hybrid powertrain later in 2021.
More and more automakers are introducing hybrid SUVs, but the Santa Fe won't have much competition if it arrives in the near future. The Toyota Highlander Hybrid, Acura MDX Sport Hybrid, and Ford Explorer Hybrid are the main rivals for the Santa Fe Hybrid.
Compared to the other hybrid options in Hyundai's lineup – there are only two, which include the Ioniq Hybrid and the Sonata Hybrid – it looks like the automaker came out with a completely different powertrain for the Santa Fe Hybrid. The Ioniq Hybrid uses a 1.6-liter four-cylinder engine and an electric motor, while the Sonata Hybrid features a 2.0-liter four-cylinder and an electric motor.
We expect the 2021 Santa Fe to go on sale in the near future, though pricing hasn't been announced yet. With all of the changes, we expect pricing to increase from the 2020 model that started at $27,450. Anything under $30,000 would continue to see the Santa Fe be an excellent value option.