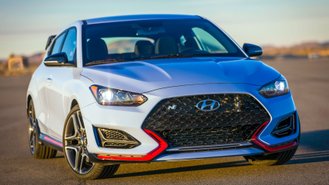 Hyundai's sportiest car is getting a massive price increase this fall. According to the latest order guide, pricing for the 2021 Veloster N will be $4,670 more expensive than the previous year. We've also learned that the new DCT variant will cost nearly $35,000. That said, a closer look reveals a pretty good reason for the price hike.
For 2021, the 275-horsepower Veloster N will start at $33,245 including a $995 destination charge. That's $4,670 higher than the $28,575 MSRP of the 2020 Veloster N. Buyers also now have the option of stepping up to the new 8-speed dual-clutch automatic for an extra $1,500, bringing the price tag to $34,745.
At $33,245, the Veloster N will cost over $3,500 more than the cheapest 2021 Volkswagen GTI ($29,690 for the GTI S with manual) but over $5,200 lower than a 2021 Honda Civic Type R ($38,450). Paired with the available DCT, the N will be over $4,200 more expensive than a DSG-equipped GTI S ($30,490).
That said, changes in equipment appear to help justify the car's higher price.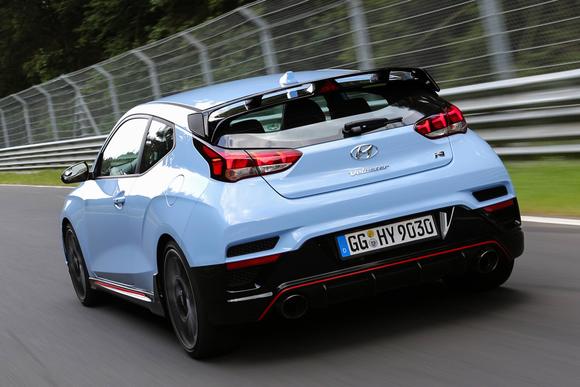 For example, last year's $2,100 Performance Package is now standard and gets you a boost in power from last year's 250-horsepower base configuration, 19-inch wheels, a limited-slip differential, and bigger brakes. Driver assistance features like automatic emergency braking, previously not available, are now standard.
Hyundai spokesman Derek Joyce confirmed the price changes via email today, adding "virtually everything is standard." Interestingly, a Veloster N with DCT will be less than $300 more than a mid-tier GTI SE ($34,460 with DSG) and a lot less expensive to buy than the range-topping Autobahn edition ($38,740).
Other key changes with the 2021 Veloster N include an 8-inch touchscreen navigation system and bolstered seats with an illuminated N logo. Although this is certainly a much larger increase compared to last year's $500 price hike, we think the fact that the N will now come fully-loaded could make it an appealing choice.
If you're looking for a deal, current Hyundai offers feature 0% APR for 48 months on all 2020 Veloster N's through November 2. The offer debuted a month ago and marks the first time we've ever seen zero-interest financing on the N. That said, leases are pretty terrible with an effective cost of just under $500/month.