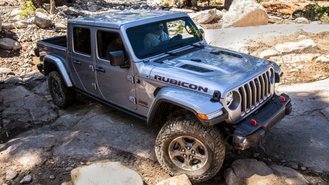 Today Jeep officially announced that the 2021 Gladiator pickup will gain a diesel engine option but neglected to release pricing. However, a recently issued dealer order guide reveals that the Gladiator EcoDiesel will command a $4,000 premium over a similarly-equipped V6 and have a starting price of just over $41,000.
Based on our analysis, the new Gladiator diesel will start at $41,040 based on an MSRP $35,040 with destination for the Gladiator Sport, the $4,000 diesel upgrade, and $2,000 for the required 8-speed automatic transmission. At $4,000, that means the cost to upgrade to the diesel will be identical to that of the Wrangler.
Further up the range, the diesel-powered Overland trim will start at $47,890 while the Rubicon will start at $51,370. The range-topping Mojave variant will continue to only be sold with a V6. The first Jeep to receive the 3-liter turbodiesel V6 was the Wrangler a year ago with an output of 260 hp with 442 lb-ft of torque.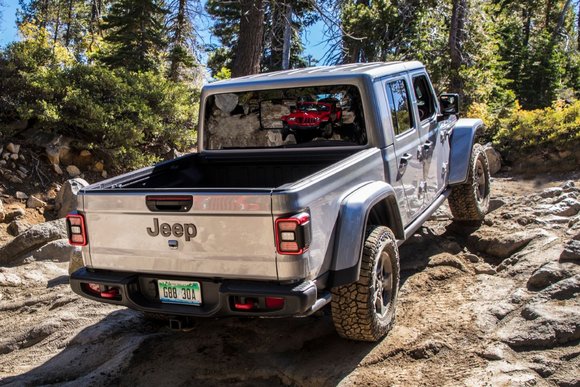 When it arrives later this year, the Gladiator will be one of just three midsize diesel trucks together with the Chevy Colorado and GMC Canyon. GM's trucks are both based on a 2.8-liter 4-cylinder mill rated at 181 hp and 369 lb-ft of torque. At the moment, it appears the Gladiator will win handily when it comes to output.
But what about towing? GM's two trucks are rated at up to 7,700 lbs when properly equipped. Although Jeep hasn't announced full towing specs for the Gladiator, it's worth noting that the Wrangler EcoDiesel is rated at just 3,500 lbs. Having said that, the Gladiator could be a compelling value when it comes to price.
For example, a diesel-equipped 2020 Colorado LT starts at $37,810 with required equipment, but adding all-wheel-drive to match the Gladiator brings the price tag to $41,275. That makes the Jeep a little over $200 less expensive. That said, pricing for the 2021 Colorado diesel haven't been announced as of this writing.
Although fuel economy for the diesel-powered Gladiator hasn't been released, the engine does offer a 5 mpg advantage in the Wrangler. Since the current Gladiator is rated at 19 mpg, we think it's highly likely that the diesel will come in at around 24 mpg. We'll have to wait for the official announcement to know for sure.
Interestingly, a narrow gap in price may not mean much after incentives. For example, Chevy is offering a 10% discount off 2020 Colorados this month for $4,128 off the price of a 4x4 diesel. At the same time, an Employee Pricing sale from GMC offers the chance to save over $4,600 off a similarly-equipped Canyon.