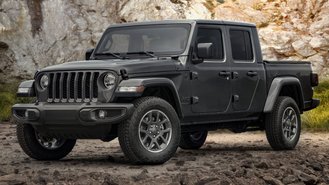 Jeep has a track record of celebrating all of its major anniversaries. The automaker churned out special editions for its 60th, 65th, 70th, and 75th anniversary. With Jeep set to celebrate another major birthday in 2021, you guessed it, the automaker is coming out with another set of Anniversary Editions. This time, though, every single model in the 2021 lineup is getting its own special edition.
All of the 80th Anniversary Editions are slightly different from one another, but they're all available in a shade of paint that's called Granite Crystal (among other paint schemes), come with wheels that are finished in Granite Crystal, have Jeep's larger 8.4-inch touchscreen, and feature 80th Anniversary commemorative badging. The majority of Anniversary Editions, like the Jeep Cherokee, Compass, and Renegade also come with Gun Metal interior accents, berber floor mats, and a black headliner.

Usually, Anniversary Editions and other special editions bring unique exterior and interior elements, but leave other things, like tech features alone. It's interesting to see Jeep offer its largest infotainment screen on the special edition models. That alone should make the Anniversary Editions more attractive. Consumers, though, will have to pay to get the extra features.
The most-affordable Renegade 80th Anniversary Edition costs $29,090 (including destination), while the most expensive Grand Cherokee 80th Anniversary Edition carries a price tag of $45,830. Jeep has priced the 80th Anniversary Editions in a way where they fall right in the middle of the lineup, so they're actually decent value options.
Look at the Renegade, for instance. The 80th Anniversary Edition sits above the Upland, which starts at $27,220 with four-wheel drive. The Upland trim can only be fitted with the 7-inch display and 17-inch wheels. So, the larger 8.4-inch touchscreen and 19-inch wheels on the 80th Anniversary Edition cover the $1,870 extra on their own.
In addition to the new 80th Anniversary Edition, Jeep is offering customers with the ability to purchase its Wave Customer Care Program. Pricing hasn't been announced yet, but the program gives owners three years of basic maintenance (like oil changes and tire rotations) at Jeep dealerships, 24/7 support through a phone call or online chat, trip interruption, first-day rental coverage, and VIP access to Jeep brand events.